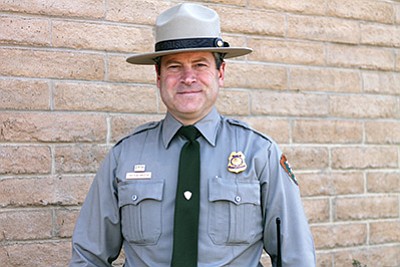 Originally Published: April 19, 2016 9:38 a.m.
GRAND CANYON, Ariz. - A chief ranger is a leader among National Park Service (NPS) rangers, some chief rangers start their careers at the bottom as part-time or seasonal park employees and gradually work their way up the chain of command. Grand Canyon's new chief ranger, Matthew Vandzura, is no exception.
This is not Vandzura's first rodeo at Grand Canyon National Park. From 1995 to 2001, Vandzura worked as a backcountry ranger at the Canyon - he worked everything below the rim with the exception of the corridor trails.
"Many, many things have changed here, but many, many things have stayed the same," Vandzura said. "It was very heartwarming to come back and know people and run into (acquaintances)."
After his initial six years at the Canyon, Vandzura went to Yellowstone for 10 years where he worked in a variety of positions including district ranger for the Snake River.
After leaving Yellowstone, Vandzura spent four years working the international border between Arizona and Mexico at Organ Pipe Cactus National Monument near Ajo, Arizona. Organ Pipe was Vandzura's first chief ranger position and is where he said he learned about working with partners and working toward a goal.
With 30 miles of international border encompassing 350,000 acres of Organ Pipe, Vandzura said his time at the park can only be described as an overwhelming amount of human and narcotic smuggling going through that unit of the National Park Service (NPS) .
"We were always fighting the impression that arresting drug smugglers wasn't our job...our job was resource protection," he said. "I firmly believe that by arresting drug smugglers we were directly protecting the environment."
As a chief ranger Vandzura's responsibilities are to help lead park employees and visitors in park safety and rescue operations, but also visitor services, communications and interagency cooperation.
Those responsibilities and relationships have grown significantly with his position at Grand Canyon.
"Developing those relationships and while there aren't multiple law enforcement agencies here, there are a few....but when you get outside of law enforcement there are a lot of other folks," Vandzura said. "Tusayan Fire, Guardian Medical, the (local) communities here, we have a lot of things we have to work on - the concessionaires. All of those companies and the NPS and the clinic have a responsibility to take care of our community."
As chief ranger at Grand Canyon, Vandzura's said his responsibilities can be broken down into five main parts: park operations, wildland fire and aviation, law enforcement services, fee management and administration management.
Park operations include managing visitor resource and protection, law enforcement and backcountry permitting. Wildland fire and aviation overseas three wildland engines, two on the south and one on the north, in addition to the helitac crew, which supports regular aviation missions and first responders for wildfire. Law enforcement services is a smaller branch providing support to law enforcement rangers with the court liaison, tracking of certifications and trainings. Vandzura also overseas fee management for the park.
"Grand Canyon has the biggest fee management program in the NPS, they bring in around $35 million a year. The south entrance is incredibly busy and those people do great work welcoming people to the park," he said. "Even though the lines are long their goal is to provide good first contact with people and not let those people feel like they've been waiting in line forever. We want every visitor to be welcomed to the park."
Under his administration duties, Vandzura works closely with a team of people to track payroll and budgets. Other management responsibilities include working with partners in other park divisions to solve park wide problems.
"Those (decisions) take all of us coming together," he said.
Getting up to speed
As part of the interview and application process Vandzura spent four months at the park. He said this gave him a better understanding of some issues he would be dealing with at Grand Canyon.
"I feel like I'm six months into it," he said. "There are still things that you learn that are different and new. Issues that were not going to come to a head or be timely during my detail I didn't learn anything about. So things now that are going to happen in six months they are definitely briefing me on."
Vandzura said most issues surrounding the Canyon are in progress. Getting up to speed and having a clear understanding on the topics and management decisions is what he is working on. Recently Vandzura attended three public meeting for the revised Backcountry Management Plan. He was impressed by the amount of work that has already gone into the document.
Other areas Vandzura is catching up on include the park's Bison Management Plan, which focuses on shifting from development of a long-term management plan for North Rim bison to initial herd reduction.
Vandzura said the park is working to integrate recent comments into both documents
Another public comment period Vandzura is watching is for the Long Term Environmental Management Plan (LTEMP) of Glen Canyon Dam. Vandzura said having public comments on these upcoming management decisions is a vital part of the decision making process.
"We want public engagement," Vandzura said. "The environmental impact assessment systems can seem very overwhelming but they are very much based on that public comment and engagement. We really want people to engage with us and tell us how they want us to manage their lands."
Another area that would have been under Vandzura's management is the River District in Grand Canyon, which was recently abolished by park Superintendent Dave Uberuaga following sexual harassment and hostile work environment investigations of NPS employees while on the river. Vandzura said Uberuaga's decision to abolish the river district was an important effort to begin to address those issues.
"It's an important issue. We feel very strongly that all employees need to feel comfortable, valued and have a workplace that is free of sexual harassment and any kid of hostility," he said. "By starting over we can truly create a culture from the ground up that values all members of the workforce and eliminates some of the situations that allowed bad behavior to persist without immediate and corrective action."
Vandzura said the abolishment of the park's river district does not mean that commercial and private boaters will be denied access to search and rescue operations and other duties the river rangers oversaw. Figuring out how the park will complete concession evaluations, check on private boaters to ensure their safety and how to monitor natural resources are some areas under review.
"All of these things are just going to be done in a different way," Vandzura said. "Search and rescue is probably a big concern of commercial and private river communities, I can assure them that we will be able to maintain our ability to respond to emergency situations with no change in quantity, quality, and availability."
Vandzura said the park will need to do more frequent and slightly different training to make up for the loss of daily exposure on the river, however, with the scale of Grand Canyon, he said the river district was a very small work unit when responding to emergency calls.
"It wasn't 80 percent of our people, it was always 10 to 15 percent of our response capability," he said.
Vandzura attributes his success at Organ Pipe and other parks to building strong working relationships and ongoing agency cooperation. He hopes to build the same kind of trust and relationships at Grand Canyon.
"These (issues) are some things that are very interesting, challenging and engaging about Grand Canyon, those very large, very complex issues that take a lot of input from all of our stakeholders, our cooperators and brining all those people together so we can have the best decisions we can make," he said. "It's fun to get people together, as long as we're arguing productively and not arguing to argue and can disagree without being disagreeable - I think that's what will bring us to good solutions."
More like this story