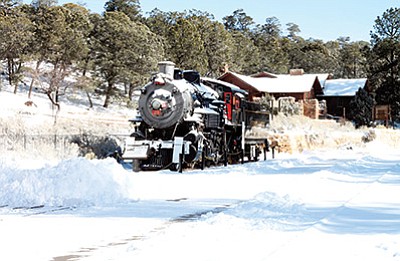 Originally Published: August 23, 2016 2:55 p.m.
GRAND CANYON, Ariz. - The Amtrak Exhibit Train, showcasing the past, present and future of America's Railroad, will be open to the public for free tours during Grand Canyon National Park's celebration of the National Park Service (NPS) Centennial. NPS is turning 100 years old Aug. 25.
Visitors can stop by Amtrak Exhibit Train at the South Rim Train Depot from 9 a.m. to 6 p.m. from Thursday, Aug. 25, through Sunday, Aug. 27. Amtrak, NPS, Texas A&M University and the Grand Canyon Railway are hosting the event that celebrates 100 years of trains connecting visitors to national parks.
The Amtrak Exhibit Train features displays including workable signals, virtual sleeping accommodation tours and trivia, the locomotive control stand and horns, photos, uniforms, vintage advertising and memorabilia from the beginning of Amtrak in 1971 to today's modern sleeping cars and high-speed rail service. For the youngest rail fans, stop off at the Chuggington Depot with the Exhibit Train, featuring toy trains and coloring tables.
Also highlighted during the Exhibit Train's visit to the Grand Canyon National Park is a partnership between Amtrak and NPS called Trails and Rails.
Volunteers sponsored by local parks educate Amtrak customers on the heritage and natural resources of a specific region while traveling by rail. Texas A&M University's Department of Recreation, Parks and Tourism Science coordinates the Trails & Rails program across the country.
The Exhibit Train includes a locomotive, three baggage cars renovated into exhibit cars and one bistro car, all with historic paint schemes. Visitors can collect a limited-edition NPS Centennial Passport Stamp, created especially for the Amtrak Exhibit Train.
Centennial Central at the South Rim Depot will feature other fun and interactive booths from local organizations and park partners, along with available food and beverages.