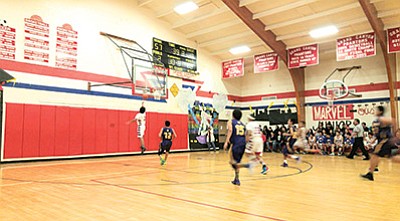 Originally Published: February 9, 2016 11:34 a.m.
GRAND CANYON, Ariz. - Head basketball coach Jeff King said the Phantoms were aiming for improvement over the course of the season. He believes they achieved their goal.
"Our team was small," King said. "They did good. I work with what I have and they worked hard. Their play improved in some games they would really work hard and then some games they would ease off a little and try to still work hard at the same time."
With the majority of their games in January, King said they were starting to wear thin.
"They got tired after the second or third game during the week," he said. "I could see it because they were trying to run but they were tired."
Working with a young team and coaching the boys for the first time gave King insight into what to expect next year.
"I've seen improvement, there's still a lot of work ahead of them and especially the guys who have never played basketball, we're trying to show them the basics and all that," he said. "They're improving. I'm still learning a lot from the boys. The boy's games - the pace is faster and defense is more aggressive."
Going into the final two games of the season against El Capitan and Shonto Prep King said he expected them to be tough competition.
The boys won 61 - 18 against Shonto Prep Feb. 5 in their last game of the season.