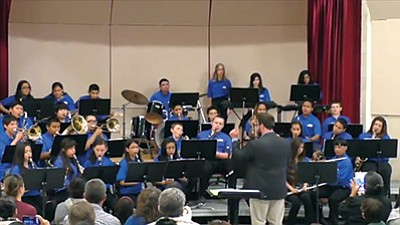 Originally Published: February 23, 2016 9:52 a.m.
GRAND CANYON, Ariz. - For the last four years Grand Canyon School's Middle and High School bands have done everything from passing around a broken drum for donations to selling band gear in order to make performing at an out of state venue a reality.
As long as they can raise enough money, on April 29 the crescendo of the Grand Canyon School's marching bands will be heard by hundreds of people as they perform at Universal Studios in Hollywood, California.
The trip costs around $20,000, a price tag that covers transportation, hotels and tickets into Universal Studios. From fundraisers over the last four years the band has collected $15,000.
"We've fundraised about $15,000 in the past four years, which will get us hotel rooms and tickets to get into the park," said Bently Monk, Grand Canyon School band director. "What we need some help with is transportation."
According to Monk, the band cannot use the school's buses since they will be leaving on a Thursday and the school needs them for transportation at the school as well as for possible use by the school's track and field team. Monk decided to reach out to several charter bus companies from Phoenix and Las Vegas and has tried to contact Grand Canyon Coaches in Tusayan.
"Currently the quotes (for charter buses) are between $7,500 and $5,000 and since there's 58 students and typically 56 seats on a charter bus we're going to have to get two buses, plus we have administration coming with us and some chaperones," he said. "The biggest issue is not necessarily the kids, we have to transport all the instruments, our stands, drum kits, audio equipment - it's pretty wild."
Monk recently approached the Tusayan Town Council for support. While council members could not help him with funding, voicing concerns of setting precedents for future requests, council members did say they would try and put Monk in contact with local companies which may be able to offer their assistance.
"I'm all about supporting but from the town's perspective that's where I'd like to get a little more comfortable on that...you catch our soft hearts and where do we stop," said Tusayan Mayor Craig Sanderson. "I think it is important that we get a better understand of where we can go because we want to do the right thing for the community and that includes Tusayan. The support of the group is not just for Tusayan (students) so that's the other thing we have to consider."
The trip to Universal Studios will mark more than a decade since Grand Canyon School's band has traveled out of state to perform. Monk said the students are really excited about the opportunity.
"We have an incredible group of students who got accepted into the Universal Studios 'Lights, Camera, Music' festival which accepts about 500 bands out of about 1,500 that apply nationwide," Monk said. "It's a pretty big deal for them."
Monk's said he would like to have the band perform at least once every four years at an out of state venue.
"When I got here four years ago my dream was that we would fundraise enough money to take kids and perform at some concert or big place outside of the state," Monk said. "Anything that we can save we've been holding onto."
Monk, who previously worked at Disney World in Orlando, Florida prior to becoming a teacher, said the opportunity to perform outside of the school means a lot to students. Over the last four years Monk has taught students how to read sheet music and play better.
"I have a lot more kids in band in the high school, we're up to almost 40 students and the middle school kids I've got close to 30," he said. "The music program is definitely growing and using trips like this helps motivate students in pushing themselves to go on trips like this."
Monk sent applications to Disney Land and Universal Studios last fall and heard back from Universal Studios, which requested the band send an audition video. A promotional video was made by the school's videography class which was linked to YouTube and sent to Universal Studios. The Universal Studio's 'Lights, Camera, Music' festival takes place at the park in Hollywood, California April 29. Monk plans to leave Grand Canyon Village April 28 and return April 30. The middle school band will perform music themes from a combination of movies that include "Despicable Me 2" and "Jurassic Park." The high school band will play 1940s, 50s and 60s urban Universal Studios jazz band music.
More information or to donate to Grand Canyon School Band is available by contacting Bently Monk at 679-296-8871.