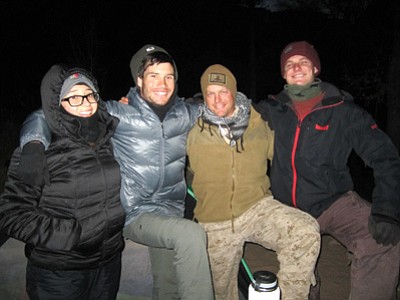 Originally Published: January 5, 2016 10:13 a.m.
GRAND CANYON, Ariz. - New Year's Eve is celebrated in cities and towns around the world, each with its own time-honored tradition. Flagstaff has its pinecone drop, Prescott has a boot drop and in the depths of the Grand Canyon the Ranger Station at Phantom Ranch has a scorpion drop.
Yep, a scorpion drop.
Just about everyone at Phantom Ranch or Bright Angel Campground gathers around the flagpole at the ranger station at precisely 9:45 p.m.
The Canyon is pitch black, the only light is from the slowly pulsing light at the top of the flagpole where the stuffed scorpion hangs, waiting to be lowered down. Anticipation builds - the event is timed to coincide with the New York City ball drop.
Even here in the Canyon party hats and New Year's bling has somehow made its way down the trail for the event. A few headlamps, flashlights and cell phone lights bob around, illuminating the path for spectators. At precisely 10 seconds to 10 p.m. the countdown starts, everyone chanting, '10, nine, eight, seven, six, five, four, three, two, one!"
The scorpion descends and the noisemakers go off, the small crowd shouting, "Happy New Year!"
Finding the right place to kick start a new year is important to most people - spending it a the bottom of the Grand Canyon is one way to get it started off right.
Jennifer Murray, from Charlottesville, Virginia, came to the Canyon expecting to spend time with her family and boyfriend. During a hike with her boyfriend on New Year's Eve, Murray got a little more than she bargained for.
"I got engaged today - on the trail," she said. "He wrote me a poem and proposed on the trail we were on."
Murray said spending New Year's in the Canyon was a chance for her boyfriend, of almost three years, to get to know her family better. While she thought he might propose sometime over the winter, she wasn't expecting it to happen while they were in the Canyon.
Allison Murray, Jennifer's mother said Murray's boyfriend, Tommy Kent, had asked her and her husband several months prior to the trip for Jennifer's hand. He had spent those months saving his money to purchase an engagement ring.
"It's been really hard to not let people know, I'm a terrible liar," she said.
Murray said her New Year's plans include planning a wedding, which she hopes will be take place sometime in June.
Andrew McDaniel and his friends Kyle and Jesus spent last year and this year in the Canyon for New Year's. The friends, all from San Diego, California, said while it wasn't part of the plan, it could become a tradition.
"I wouldn't say our plan was to aim for New Year's Eve," McDaniel said. "We sort of do what works for us. We were down in the Canyon for New Year's last year too, but it might become a tradition."
Likewise, Vince Meza, his sister, Holly and their two friends Fletcher Metten and Kyle Smith said their trip into the Canyon was not planned around New Year's Eve. Meza planned the trip in June and said it was the best time for them all to get together.
"We've been planning this for awhile. There were supposed to be a few more of us but two of our friends kind of bailed," he said. "I've never been to the Canyon, our old man he's never been to the Canyon - he's still sitting up there (on the rim) enjoying himself."
Kyle Smith said he was enjoying the Canyon and spending New Year's Eve in the Canyon. For him it's a once in a lifetime experience.
"It was something different - epic," he said. "It's really cool down here, there's nothing else like it and for me it's about making memories and enjoying it, stepping away from everything and really enjoy it because nothing else matters."