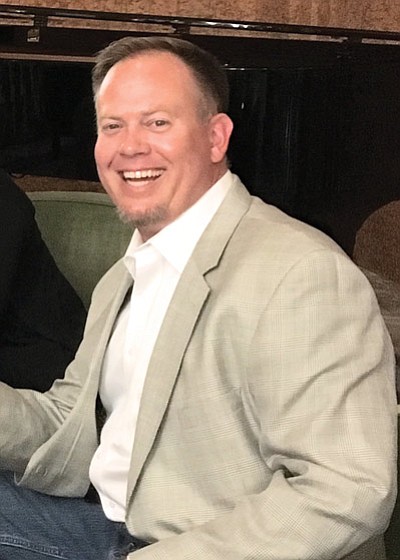 Originally Published: January 12, 2016 2:33 p.m.
TUSAYAN, Ariz. - John Vail never knows what his average week will look like. Much of the time what Vail does for the Tusayan and Grand Canyon communities is behind the scenes but Vail's dedication paid off when he was recognized as the 2016 Community Leader of the Year (CLOTY) by the Grand Canyon Rotary club in December.
The local communities are important to Vail and receiving recognition for his contributions was an honor.
"I just love the community," Vail said. "The friends and the family, this tight knit community...we've gone through some tough times but the community is still here and I'm glad to be a part of it. I'm humbled and honored and want to thank the Grand Canyon Rotary for such a great honor."
Andrew Aldaz a resident of Tusayan and former CLOTY recipient nominated Vail for the award and said it was because of everything Vail does for the community.
"He is on two important boards for the town - the fire district and the sanitary district," Aldaz said. "They have a lot of input into what happens (on the districts) and they keep that going and rolling. Then there are a lot of things that he does that people don't see. Every time there's a fundraiser and they need a band to play somewhere John never hesitates to help out and do what he needs to do to fundraiser for whatever the event is in the community."
As a past recipient of the CLOTY, Aldaz said he knows what an honor it is to receive the award.
"Basically people like us, we - I didn't really expect to get that kind of recognition and to get that recognition is like, 'hey, what I do in this community really does matter,'" he said. "People see what you're doing to really help the community."
Vail said he is honored with the award and is humbled to be counted as a leader in the community.
"The other people who have received that award, I hold them in such high regard that I'm just absolutely honored to be part of that group," he said.
About John Vail
As a native Texan, Vail has retained his accent over the years. Originally from Amarillo, Texas, Vail has lived in several states, including Oklahoma, California and Colorado prior to moving to Tusayan permanently in 1992.
His wife, Clarinda, introduced Vail to the Tusayan community although he had made it to the Canyon prior to meeting her.
"We drove through in the summer of 1985, that was the first time I saw the Grand Canyon," Vail said. "Other than that I had never spent any time in Arizona. I always loved Colorado and I thought, being a silly kid, that might be where I wound up, but you know how to make God laugh is tell Him your plans."
When Vail first visited the Canyon he was on his way to the New Mexico Military Institute (NMMI), a high school military school in Roswell, New Mexico. Vail attended NMMI all four years of high school and one year of junior college. It was also where he met Clarinda.
"It was good for me, I met my future wife there," Vail said.
After military school, he and Clarinda moved to Boulder, Colorado, where he studied music education at Colorado University.
Over the summer of 1989, Vail and Clarinda went to Tusayan to help run Hit the Spot Bar and Grill, owned and operated by Clarinda's family.
"We came to help out and ended up staying permanently," Vail said.
The Vail's didn't take up permanent residence in Tusayan until May and he and Clarinda were married that September.
The Vail's ended up running Hit the Spot for several years before it closed down and the Holiday Inn was constructed where the bar once sat. Vail said Hit the Spot was a favorite local hangout and always-featured good music, good food, live bands and dancing.
"It really was the local watering hole," he said. "It was a pretty good spot."
Music has always played a big part in Vail's life. His mother was a musician and his great uncle played lead clarinet for Tommy Dorsey. Vail learned to love music from an early age and by the time he graduated high school could play 13 different brass and woodwind instruments. Trumpet was his passion though and he received several scholarships for his skills.
In 2000, Vail started playing bass and in 2001 he helped form the band Exit 64 to play a memorial tribute to honor those who died in the Sept. 11 attacks on the World Trade Center.
Today, Exit 64 plays for benefits, fundraisers and many other events in the community. The band plays a big part in the behind the scenes aspect of Vail's helping out in the community.
"When somebody needs help, you go help them," he said. "I've always loved the Tusayan, Grand Canyon area. To be able to live so close to one of the seven natural wonders of the world, I just feel really fortunate to live here. I love how small and how tight this community is."
Vail's other contributions include picking up litter in the community, working with youth and serving on the fire district board since 2004 and the sanitary district since 2005.
"You help folks when they need help," he said. "Tusayan has always been a really tight community and being as rural as we are you help take care of each other. If we have a water line break in town or something like that we're all down in the hole. You just do what you can. I feel that it's kind of your duty to serve on these boards and if you truly care about your community to be involved,"
The Vail's are highly involved with the Tusayan and Grand Canyon communities. They have two adopted daughters, their nieces, Bonnie and Crystal. When Vail is not volunteering of practicing music with Exit 64 he can be found working at the Red Feather Lodge in Tusayan.