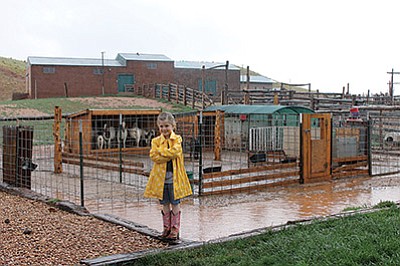 Originally Published: January 26, 2016 11:36 a.m.
TUSAYAN, Ariz. - Turn left at the power line. Turn right at the Y at the bottom of the switchbacks. No road signs, no traffic. No school building.
The ranch sits at the top of a canyon at the end of a dirt road. Cattle and occasional pronghorn come in and out of view on the 20-mile drive. The working cattle ranch is located on the western side of the 700,000 acre Babbitt Ranches. The nearest neighbor is 40 minutes away. There is no cell service and no internet; a microwave radio phone is the only way to communicate with those off the ranch.
Scott and Victoria Westlake live and work on the ranch with their four daughters. The girls range in age from 4 months to 13 years old. They have homeschooled the girls for the past nine years.
But not only because of where they live.
"People would like to pin it (homeschooling) on why we live way out here," Victoria said. "Because obviously it would be horrible to have to drive to town to get the kids to school. But we like to homeschool, if we lived in town we would still homeschool."
The National Center for Education Statistics (NCES) estimates that approximately 1,770,000 students are homeschooled in the United States. The Coalition for Responsible Home Education estimates that 35,300 - 47,000 children are homeschooled in Arizona. In the NCES survey, 91 percent of parents said they homeschooled because of a concern about the environment of other schools.
Scott and Victoria grew up on ranches themselves. Scott went to Wyoming public schools and Victoria spent part of her education in Flagstaff public schools and her high school years homeschooling.
"I come from a long line of school board chairmen," Scott laughed. "They are the 'take you to the mat over public schooling' kind of parents."
"I grew up on this ranch (Babbitt) but near Grey Mountain," Victoria said. "It was an hour drive to school every day."
Scott and Victoria struggled in their later years at the public schools. Their experiences with the distance, inflexibility, and social structure at the schools left them with a desire to do something different with their own kids.
"I'm pretty excited about this year," said the Westlake's 13 year-old daughter, Katherine. "I'm doing the first year of high school, which is ancient history and literature. I'm pretty excited about my new math this year too, it's Math U See."
Katherine and her 10 year-old sister Rebecca are following My Father's World curriculum and are able to work together on a lot of their school work. Their curriculum integrates Bible, literature, science, music, and art with geography and history.
"It's great when they learn to read," Victoria said. "They can do a lot of it on their own and I feel like they have the discipline to do it. She (6 year-old Lauren) loves to learn."
"I like reading the Bible," Lauren said.
Besides their book work, the girls are involved with educational projects around the ranch. Victoria uses 4-H as part of their learning experience. Their 4-H club meets monthly and has lessons on animal caretaking, anatomy, diseases, fitting and showing.
"This is my fourth year in 4-H," Katherine said. "I've won grand champion goat and reserve champion lamb. I also won showmanship three years in a row."
On the ranch, the girls are learning to help their dad with the 8,000 head of cattle. They help gather and trail the animals where they need to go.
"The other day we branded the late calvers," Katherine said. "We have to go get them and put them in a pen. Then the cowboys go in there and rope them (and take them where) we need to brand them."
The Westlakes are part of a homeschooling group in Williams. In the past they have participated in once-a-week classes taught by other homeschooling parents. The girls are not in the classes this year, but still participate in monthly activities and field trips with the group. They are also close to another homeschooling ranch family, the Camerons, who live nearby,
"The girls have many friends in the group," Victoria said. "We also get together with the Cameron's on Sundays for fellowship."
A hybrid approach
Approximately 30 miles to the east of the Westlakes is the Cameron's ranch. Brooks and Melissa Cameron live on the ranch with their son and two daughters. The 700 head cattle ranch is located about five miles off the pavement, and an hour from Flagstaff.
The Cameron's also homeschool their children. The kids have taken outside classes off and on through the years, but are primarily taught by their mother. They follow a classical education approach which focuses on grammar, logic, and rhetoric with history being the unifying conceptual framework.
"We joined Classical Conversations in Flagstaff this year," Melissa said. "It's a co-op in town. I'm still in charge of their education...but they're accountable to a tutor on Fridays."
The co-op divides the students into groups of 12 by age. The students work independently at home and have classes together on Fridays. They receive their new assignments from the tutors during that time.
"The whole point is that they want to empower parents to be the primary teacher," Melissa said. "But that's mostly for the younger ages. By the time they get to high school these guys are supposed to be owning their education and doing it themselves."
The Cameron's have been involved with outside classes throughout their homeschooling years. Melissa likes the flexibility and control over her children's education, but likes them to have a little accountability to someone else.
Melissa spends more time with Ellie, who is nine. Bailee and Cole have schedules and work mostly independently. Cole is usually up by 5 a.m., with his work completed by 10 a.m.
"Cole likes to get it done before he goes out to work," Melissa said. "He really likes working with his dad on the ranch. This spring it was Brooks and the kids doing all the work."
Brooks is a fourth generation cowboy who works his cattle with minimal help. His family has owned property in the Valle area since the 1940s.
Like the Westlakes, the Camerons are heavily involved with 4-H. All three kids have animals they are preparing for the Coconino County Fair. Cole is raising a pig, Bailee has a lamb and Ellie is raising a pig and a lamb. They exercise and wash their animals every day and carefully monitor their feed.
"First thing we do in the morning is feed them," Cole said.
The Cameron's became interested in homeschooling through missionary friends. Melissa said that all the kids like homeschooling and the freedom it gives them to pursue other activities. They have the option of going to school in Williams, but it would require the kids to be at the bus stop by 6:15 a.m. and they wouldn't return until 5 or 5:30 at night.
"The times goes so fast," Melissa said. "Its such a small season of our lives that we just want them with us."
More like this story