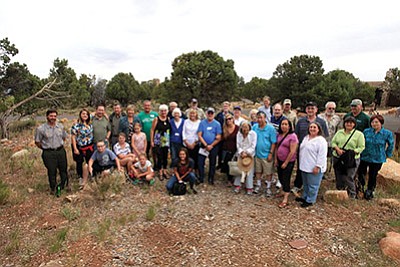 Originally Published: July 12, 2016 10:09 a.m.
GRAND CANYON, Ariz. - On June 30, family, friends, National Park Service (NPS) employees, Federal Aviation Administration (FAA) and members of the Grand Canyon Historical Society (GCHS) gathered to commemorate the 60th anniversary of the tragic plane crash over the Grand Canyon, in which 128 people lost their lives in what was considered one of the worst air disasters of its time.
The horrific airline collision took place over the Grand Canyon in 1956, when a Trans World Airlines (TWA) Super Constellation L-1049 and a United Airlines DC-7 collided in uncongested airspace 21,000 feet over the Grand Canyon, killing all 128 people onboard the two flights. The tragedy spurred an unprecedented effort to modernize and increase safety in America's postwar airways, culminating in the establishment of the modern FAA.
The GCHS, in cooperation with the NPS, planned a multi-day event to commemorate the crash and welcome back around 30 surviving family members.
On June 29, a silent laying of wreaths was heled at two mass grave sites. The TWA mass grave site in Citizens Cemetery in Flagstaff and the United Airlines mass grave site in the Pioneer Cemetery at Grand Canyon Village.
Wayne Ranney, president of the GCHS, lay the wreath in Flagstaff. The other wreath was placed around the same time in the Grand Canyon Pioneer Cemetery. Ranney said the wreaths remained in place until the morning of July 1 and said visiting family members were made aware so they could visit the sites during that time.
One June 30, a reception at a visitor center at Desert View was held for family members. Ian Hough with the NPS and Ranney said a few words about the tragic event.
A formal event was held at the National Historic Landmark plaque adjacent to the Watchtower at Desert View.
Brian Gatlin with the NPS spoke and rangers and GCHS members were available to interpret the crash site below.
An evening program was also held at McKee Amphitheater on the 1956 crash, the recovery operation, the ultimate creation of the FAA and the 2014 designation of the crash site as a National Historic Landmark.