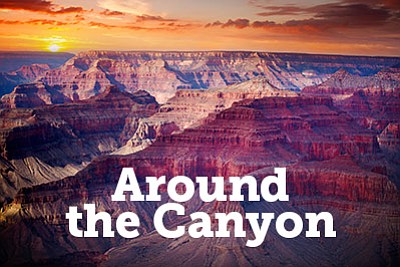 Originally Published: July 19, 2016 1:04 p.m.
Flagstaff shopping July 28
On July 28 the Grand Canyon Recreation Center is taking a trip to Flagstaff for shopping purposes. Those interested can meet at the Rec Center lobby at 7:45 a.m. The trip fee is $15 per person. More information is available from the Rec Center at (928) 638-3389.
Tusayan Food Bank July 20
On July 20 from noon to 3 p.m. the Tusayan Food Bank will be set up in the parking lot next to Sophie's Mexican Kitchen in Tusayan. Food boxes are served and a donation table will be onsite. The Food Bank is made possible through Sophie's Mexican Kitchen, Stilo Development Group and St. Mary's Food Bank and happens every third Wednesday of the month. More information is available from Sandi Angat at (928) 266-2604.
Community Volleyball
On Mondays, Wednesdays and Fridays at the Grand Canyon Rec Center eveyone is ivinted to join in free games of community volleyball. Play begins at 6 p.m. on the sand volleyball court at the Rec Center
Holistic Lifestyle coaching
Rob Gerard, a strength and lifestyle coach is offering free holistic lifestyle coaching to members and non-members of the Grand Canyon Rec Center. According to Gerard the way in which we choose to eat, sleep, exercise, go outdoors, have fun, manage stress and connect to others matter. Gerard offers these and other ideas through holistic lifestyle coaching and separates a life merely lived from a life worth living. Gerard helps individuals experience a stronger, healthier and more meaningful life through mindful living. More information or to set up a meeting to learn more about the Holistic Lifestyle contact Rob Gerard at (928) 699-2091 or performancebyrob@gmail.com.
Bountiful baskets
Bountiful Baskets is a food co-op, bringing fruits and vegetables to the Grand Canyon alternating weeks. The co-op offers a conventional produce basket generally including half fruit and half vegetables. The monetary contribution is $15 and is usually worth $50 retail. Organic baskets require a contribution of $25. To participate, visit bountifulbaskets.org.
Pick-up location is the Grand Canyon Community Rec Center.
Grand Canyon Yoga
An all level yoga class, taught by Jennifer Allen, meets from 5:45 to 7 p.m. on Wednesday nights at the Grand Canyon Recreation Center, 2 Mohave Street Grand Canyon.
Grand Canyon AA
Grand Canyon chapter of Alcoholics Anonymous meet three times weekly at the South Rim on Mondays. Wednesdays and Fridays in the Kachina Room of Kachina Lodge. Meetings for the group begin at 7 p.m.
Children's Church
Grand Canyon Community Church is launching a children's church that takes place Sundays from 11 a.m. to noon for children from three years old to sixth grade. The church meets at the Shrine of the Ages auditorium in Grand Canyon National Park.
Tusayan Fire seeking volunteers
Tusayan Fire Department is looking for volunteers to join its department. Those interested in being part of the tradition and the excitement of firefighting while serving in the community are encouraged to become a volunteer. More information is available from Tusayan Fire Department at (928) 638-3473 or by stopping by the department Tuesday through Friday between 8 a.m. to 5 p.m.
Acro Yoga
Acro Yoga is an informal class combining yoga and acrobatics to create an uplifting experience. Classes are offered Mondays at 9 a.m. and Wednesdays at 7 p.m. at the Grand Canyon Recreation Center.
Orienteering Club
The Grand Canyon Orienteering Club meets every other Friday at 3 p.m. at the Grand Canyon Rec Center. All ages and skill levels are welcome.
Yongshidao Self Defense Class
Learn how to defend yourself with Mater Michael Martinez at his Yongshidao self defense class. The class is free and meets twice a week, Sundays and Tuesdays from 7:30 p.m. to 9 p.m. at the Grand Canyon Recreation Center, 2 Mohave Street Grand Canyon.
Grand Canyon Lions Club District D21
The Lions club meet the first and third Wednesdays of each month at 7:30 p.m. at the Canyon Plaza Resort, located behind the IMAX® Theater on Highway 64. Anyone in the community is invited to attend.
Zumba with Haley
Zumba with Haley is a free dance class. Zumba meets at the Grand Canyon Recreation Center every Monday from 7 p.m. from 9 p.m. Zumba is a Latin inspired dance fitness program. Participants should bring exercise clothes and water.
Violin and piano lessons
Rachel Dryer is offering violin lessons to anyone interested in learning to play. Lessons are $15 for half hour lessons. She has played the violin for 15 years and teaches the Suzuki method. Rachel also offers piano lessons for those interested. More information is available from Rachel at 928-310-4327 or krachelsmith@gmail.com.
More like this story