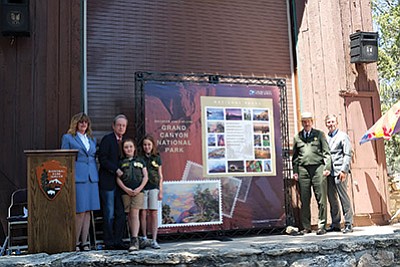 Originally Published: June 7, 2016 1:15 p.m.
GRAND CANYON, Ariz. -The National Park Service received a stamp of approval from the U.S. Postal Service (USPS) to publicly launch the 16 National Park Forever stamps commemorating the 100th anniversary of the National Park Service (NPS) June 2.
Across the country, first-day-of-issue ceremonies took place, including at the World Stamp Show in New York City and at 13 of the NPS sites depicted on the pane of stamps.
At Grand Canyon National Park (GCNP) stamp collectors, postmaster from across Arizona, distinguished guests and NPS personnel gathered to unveil the centennial stamp collection. The ceremony was held at the McKee Amphitheater and featured a presentation of colors by American Legion John Ivens Post No. 42 followed by the singing of the National Anthem performed by Grand Canyon School students Mattie Donehoo, Meaghan Donehoo, Nolan Johnson, Ellie Perkins and Savannah Perkins.
James Bilbray, chairman of the USPS Board of Governors and former U.S. representative of Nevada welcomed members of the public to the event.
"We gather today at one of America's great national parks - the Grand Canyon. I want to thank the National Park Service and the great Grand Canyon staff for their hospitality," Bilbray said.
Doug Lentz, chief of commercial services at GCNP also gave opening remarks and spoke about the Grand Canyon stamp image, which was taken from "The Grand Canyon of Arizona, from Hermit Rim Road," painting by Grand Canyon artist Thomas Moran. The Grand Canyon stamp was the eighth of the 16 Forever Stamps and was revealed April 13.
Official dedication and unveiling of the pane, featuring each of the 16 stamps, was made by Guy Cottrell, chief postal inspector for USPS visiting from Washington D.C.
The pane includes each stamp, each with a view of the national park or an associated plant, animal, object or structure. Small type on the margin of each stamp indicates its location. The image at the center of the sheet is a detail of the one cent Yosemite stamp which was issued in 1934.
The 16 NPS sites featured on the Forever Stamps are Acadia National Park, Arches National Park, Assateague Island National Seashore, Bandelier National Monument, Carlsbad Caverns National Park, Everglades National Park, Glacier Bay National Park and Preserve, Grand Canyon National Park, Gulf Islands National Seashore, Haleakalā National Park, Kenilworth Park and Aquatic Gardens, Marsh-Billings-Rockefeller National Historical Park, Mount Rainier National Park, San Francisco Maritime National Historic Park, Theodore Roosevelt National Park and Yellowstone National Park.
Each site held a first-day stamp dedication ceremony except for Marsh-Billings-Rockefeller National Historical Park will hold its ceremony June 4, and Arches and Acadia National Parks.
As Forever stamps, these stamps will always be equal in value to the First-Class Mail one-ounce price. First-day-of-issue postmarks and related philatelic products are available for 60 days from June 2. More information is available at usps.com/shop.
The Postal Service receives no tax dollars for operating expenses and relies on the sale of postage, products and services to fund its operations.
National parks have been honored on numerous U.S. postage stamps.
Ten stamps were issued in 1934 to promote National Park Year. One stamp was issued in 1966 to celebrate the 50th anniversary of the NPS, and eight stamps were issued in 1972 to celebrate the centennial of Yellowstone, the world's first national park.
Other stamps have featured individuals, organizations and places associated with parks. Photographs of several parks appeared on recent Scenic American Landscapes stamps for use on international mail.
In 2009, the U.S. Postal Service worked closely with NPS to publish The Grandest Things: Our National Parks in Words, Images, and Stamps, an illustrated 116-page hardcover book that explores how the National Park System began, the changes it has endured and the array of sites it includes.
The Grandest Things included eight Scenic American Landscapes stamps and the 8-cent National Park Centennial stamp from 1972 featuring Old Faithful at Yellowstone National Park. The back of the book features spaces to collect park-related stamps, as well as blank spaces for future issuances.
More like this story