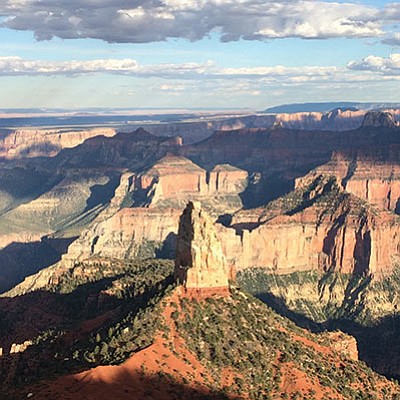 Originally Published: June 14, 2016 10:09 a.m.
GRAND CANYON, NORTH RIM - The Grand Canyon Artist in Residence (AIR) programs, once offered on both the North and South Rims of Grand Canyon National Park, are considered one of the most prestigious residency programs in the nation.
In 2015, to address a growing budget concern, the National Park Service (NPS) decided to put the South Rim program on hold. Artists scheduled for a South Rim residency were offered residencies on the North Rim. In order to accommodate all scheduled artists, the North Rim program was made available through 2017.
This year's first AIR's, a husband/wife couple who paint and take photographs, spent their residency exploring the Canyon and cultivate a new-found knowledge of its massive expanse.
"The canyon is too grand to capture as a whole. It is overwhelming and hard to grasp even as you stand on the edge and look down at it. Its scale creates a sense of awe and humility," said painter Patrick Keesey. "The only way I could approach this vast space in drawing was by focusing on details and fragments, relating to it through its history or by trying to comprehend the infinite space in a mystical and spiritual way."
Photographer, Tina Hejtmanek agreed and said while the Canyon and the residency were exciting it was a challenge to capture.
"Silence is a mass here to be felt as a form and there is no way for me to accurately represent that feeling of space. Instead, I have been shooting images of details that make up the many layers of the Rim - the colors, the textures, the sun and sky, the light and the forms it creates," she said.
Keesey and Hejtmanek split their time between New York City, New York and Marfa, Texas. The couple met in Marfa and were later married there in 2006.
Today, they spend most of their time in NYC where their work is displayed and represented by Blackston Gallery.
Hejtmanek grew up on the east coast, in western New York and central New Jersey and said she has always identified as an artist.
She actively exhibits her work, which has been in shows throughout the U.S. and around the world. Her work has also been featured in various periodicals and catalogues.
"My family spent a lot of time in museums when I was a kid and that's when I realized that art could be a profession," Hejtmanek said. "As a child I felt most comfortable while making marks. I was interested in painting the landscape at a very young age. I spent time outside exploring the different seasons and the effect of light in nature."
Eventually, her concentration moved from painting to photography. She now shoots film to create temporal, painterly images of the natural world.
This North Rim residency marked Hejtmanek's first visit to the Grand Canyon.
"I am very grateful for the opportunity to spend time in this landscape," she said. "I have been excited to work with the dramatic surroundings provided on the North Rim."
During her time as an AIR, Hejtmanek made hundreds of exposures with film and digitally.
She plans to make abstract ink drawings of the light from her digital images. The film will then be processed in NYC and traditional prints will be made from the negatives.
"I am interested in representing the feeling of the place the details that comprise the whole," she said. "The canyon itself is most impressive and indeed it is very grand and for me, the smaller moments that occur outside of the canyon provide a stunning balance of power and grace and endless material to work with."
Keesey also identified as an artist since his youth. He has intimate family memories of hiking and backpacking in Sequoia National Park. Keesey said this residency rekindled the significance of those yearly pilgrimages of his youth in the high Sierras and reminded him of the importance of natural wilderness.
As a kid growing up in Southern California, surfing and skateboarding were part of Keesey's daily routine. However, Keesay said his love for drawing was evident from a very young age.
"Drawing is the foundation of my art making practice to this day," he said. "I always think of drawing as a nice lunch date with a good friend and painting as a difficult codependent relationship."
Keesey draws from observation but is not set on making a representational image of what he sees. Instead he attempts to create the drawing or painting equivalent of the experience.
"A drawing or painting is always a drawing and painting first - it is never the Grand Canyon even if that is the source of information," Keesey said. "I follow the path of my eye as it views the subject and I note the edges, negative spaces, reflections, lines and shadows of my subject as I see them."
Keesey believes that if he puts his ego and will aside, the marks will reflect the details and quality of the landscape and will in turn create an organic and natural form that can act as an accurate symbol of the experience of looking.
"I try to make a successful drawing or painting from the moment I begin to look and draw, from the very first mark. I do not lay anything out. The experience is immediate," he said. "My practice of drawing and painting is fundamentally about being present in each moment. The artwork is a byproduct of that experience."
During his residency, Keesey worked on two separate series.
In the first series, he used metallic ink on paper of almost the same color as the ink, and let the line of ink trace the path of his eyes as they followed the curved outlines and meandering cracks of the eroding cliffs. The finished drawings are almost invisible unless the sun or light strikes them at just the right angle. When the light catches the metallic line you can see a fleeting form of wandering lines floating on the page.
In the second series, Keesey used multiple colors of ink (silver, gold and bronze) and colored pencil on white or black paper with each color representing a different layer of rock in the canyon walls. Rather than place the different colors on the various sections of the paper from the top to the bottom as a representational equivalent of the canyon, he let each color intertwine immediately on top of the previous one so that the different colored layers of line created a chaotic web or hive of marks.
"These drawings are my humble offering to the canyon's ancient ancestors and quiet gods whose presence still fills these canyon walls, and whose essence is the only way I can fully comprehend and grasp the epic and awesome stillness and power of this amazing and magical land," he said.
One unforeseen benefit to their experience at the Canyon was Keesey and Hejtmanek's interaction with the NPS Interpretative Rangers.
"Each one of them has a unique charm and is a source of a vast amount of information. I was impressed with their generosity and enthusiasm, their willingness to share their respect and love of the canyon, combined with their collective concern for the preservation of this precious resource was impressive and inspiring," Keesey said. "We should be proud to have these great rangers."
Keesey plans to host an open studio to show his drawings from the North Rim when he returns to NYC.
His work has also been displayed with Blackston Gallery in NYC and with McDaris Fine Art in Hudson, New York and Powell Street Projects in San Francisco.
More like this story