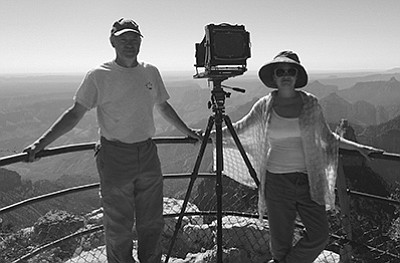 Originally Published: June 28, 2016 12:31 p.m.
GRAND CANYON - NORTH RIM, Ariz. - In 1973, Texas photographer Robert Langham was a fit and healthy 20-year-old on his way to an Ansel Adams workshop in Yosemite. Along the way he stopped at the Grand Canyon and decided to hike it. A few hours later he had made it to Indian Garden and turned around - dragging himself the last few steps out of the Canyon.
Langham never forgot that moment - the last few steps of effort it took to make it to back to the trailhead. He also never forgot the exhausted, emotional high he experienced on reaching the top. Forty-three years later, Langham returned to the Canyon to try and capture the essence of that moment. Armed with a large film camera Langham spent June 1 - June 13 as the North Rim Artist in Resident (AIR) studying and photographing people's mental reactions as they came out of the Canyon.
"I wanted to photograph them to see what the Canyon had laid on them," Langham said. "For people staggering out of the Canyon, it's such a psycho - drama. When you've been to the Canyon bottom and back or if you've been down there for a few days and you're hiking out - with your whole household on your back and you finally get to the rim ... it's a huge psychological moment."
Langham believes different landscapes make different people and when humans try and react to the immensity of the Canyon's landscape it's so overwhelming they try to find a frame of reference. Langham said for some people this reference is how far they can go into the Canyon and come back out.
"One kind of people come from sea faring people and one kind of people come from the mountains and another from the plains and another from the forest," he said. "The landscape really matters in the culture that it's affected."
His plan was to watch how people mentally measure the Canyon against the size of their own body and how they relate to something on the scale of the Canyon. He also planned to focus on the Canyon's vast expanse as well and try to capture how volume, distance and light is dispelled across the landscape of the Canyon.
"The light in the Grand Canyon - you just see colors and things that you don't normally see, especially in east Texas," Langham said. "(In east Texas) there's no horizon line, everything is within arms reach - you're photographing kind of close. Where at the Grand Canyon you're photographing the volume of air and space and light. When you get out west the space is much different. You really have to shift your mental gears to make that change."
On June 13 Langham finished his time as AIR and he and his wife, Katie, returned to their home in east Texas. Langham has not developed the negatives, which he plans to do in classic darkroom style, from his North Rim experience. He wants to 'forget' about them and let them come to fruition in their own time.
"The lighting was very tricky and always different. Going to be interesting to see how the dice fell. Most of the time I'm just guessing," he said.
His subject matter was a little easier to interpret. Capturing hikers in their moments of giddy ecstasy and triumph on the last steps up the dusty Canyon trails was easier than Langham anticipated.
"The hikers were happy to be photographed. I never had a hesitation from anyone," he said.
Langham shot individuals and groups emerging from several different trails. He was surprised at how many rim-to-rim hikers there were. He found many of his hikers coming up from the North Kaibab Trail.
"I met a professor from Texas A&M, (who was going rim-to-rim-to-rim), a father and son, a group of 18 hikers from Houston and several pairs," he said.
After the blistering June heat cut the number of hikers down, Langham spent time trying to capture his second goal during his residency - photographing the essence of the Canyon's light and space.
"(I) spent a lot of time walking the rim and looking at landscape, shadows - the edges of things," he said. "I avoided looking at subjects and light that were similar to my home country. I shot the classic Bright Angel Canyon view from Bright Angel Point over and over in many different lighting situations and got to know it very well. That may be a series all on its own. The first evening we were there I walked through the lodge to the veranda and it was laid out in front of all of us just glowing in the late light. It was so beautiful that it was hard to look at."
According to Langham, the AIR experience is always something different than artists think it will be.
"Part of the very valuable part is coming home and looking at familiar surroundings with new eyes," he said.
About Robert Langham
Langham is a native of Tyler, Texas a growing metropolis with over 100,000 people. Langham is a full time landscape photographer who also dabbles in other forms of photography including still life shots.
Lagham was the AIR at the Petrified Forest National Park in 2015 and at Hubbell Trading Post in Ganado, Arizona in 2014. His work is collected in museums and by collectors. One recent collection of still life photographs was on display in Albany, Texas.
Langham also teaches a Fundamental of Photography class at Tyler Junior College where he teaches students the functionality of cameras and composition. He does not use the dark room, opting to teach modern digital photography skills students can use in future professions, however, he does take students into the dark room at least once during the class to impart the values dark room photography have contributed to modern skills.
Langham first visited the Canyon's South Rim in 1973, followed by a trip to the North Rim in the late 70s and a final trip with his wife to the South Rim in 2010 before returning as Artist in Resident.