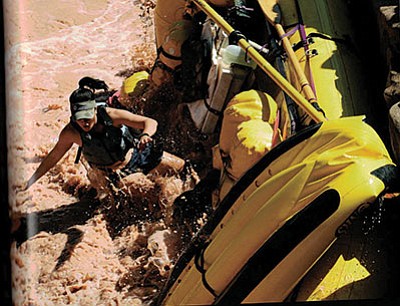 Originally Published: March 7, 2016 1:16 p.m.
GRAND CANYON, Ariz. - Most people will never see the Grand Canyon from the helm of a river boat, heading into the swirling abyss of a Class IV rapid.
Thanks to Grand Canyon author and doctor Tom Myers along with graphic designer and photographer Bronze Black, that experience can be had in your living room. Myers and Black's book, "Flipped Out" goes beyond just flipped boats. It digs deeper into the heart of the Colorado River, showing raw photographs not only of Grand Canyon's wildest river rafting and boat flips to date but also the thrills, danger and awe of being on the Colorado.
Picture this - two guys standing on the bank of the Colorado wearing wool long johns, lifejackets and flippers on each foot. The photos is dated April 1955 and depicts two California insurance agents who went against all logic to float the entire length of the Grand Canyon - in nothing but life jackets. Their adventures were later recounted in the book "We Swam the Grand Canyon: The True Story of a Cheap Vacation that Got a Little Out of Hand." They were flipped out for the Grand Canyon, which is the kind of exuberant spirit Myers wanted to capture in the book.
"For me, first off it's like let's put in some adrenaline, the shocking thing up front to grab attention and then put in all the other stuff -nostalgia, awe, inspiration - all the feelings you get when you're going down the river," Myers said. "It's trying to put in stuff that you won't see every day, if ever again."
Even though he didn't realize it at the time, Myers first came up with the idea for "Flipped Out" 25 years ago.
"I saw a slide show at Lees Ferry, the river ranger there named Tom Workman used to show slides of a Tour West flip, which is (one of) the most sort of shocking, mind boggling flip sequences in the book," he said. "He would show that as an introductory talk to private's going down the river - it would scare the crap out of you."
Myers was fascinated by the slides and not just by the river getting the best of a few white water passengers, but also as a long time doctor at the Grand Canyon, he was interested in the educational value of the slides.
"I wanted to do (slide shows) about white water rafting injuries and safety (I thought) it would be nice to put these up and use that as a segue into talking about injuries and deaths," he said.
Myers started collecting pictures and before long he realized he was onto something.
"I thought, 'wouldn't it be neat if there was a place where you could have all these cool shot in a collection,'" he said.
With the thought that he could compile them into a book after he had enough, Myer continued to collect pictures. The idea was unique.
Myers knew the hard part would be collecting the still photographs and slides. He didn't want to scare anyone away from the river but he did want a book that was authentic, depicting the thrill of river running along with the dangers of riding the river.
"I'm not going to candy coat it, you take your kid down the Grand Canyon, you better understand the risks," Myers said. "(You understand) that this person was in the wrong spot at the wrong time going right into (a) ledge hole. There's way more conservative runs and you don't have to end up like that."
Myers knew that not everybody will buy into the concept, but for the percentage that did he had his audience.
Starting in the 1990s, Myers sent out a request for photographs to the local river running community. Collecting the material wasn't easy, some thought he might be in it just to make a buck. The real game changer happened after Myers announced that 100 percent of proceeds from the book would be donated to Grand Canyon Youth (GCY).
"People came out of the wood work with pictures," Myers said.
Myers knew he wanted to donate the proceeds from the book to a non-profit and GCY has always been close to his heart. As a member of the board of directors at GCY for over 11 years, Myers understands and promotes the organization's mission of 'giving youth (ages 11- 19) an experiential education on the rivers and in the canyons of the Southwest in an effort to promote personal growth, environmental awareness, community involvement and teamwork among people of diverse backgrounds,' which is GCY's mission statement.
In short, GCY cares about youth and the powerful influence a river trip can have on the future of a young person.
"I want GCY to be more on the map, besides being just a Flagstaff organization," Myers said. "I'm hoping that the book will make it into the souvenir pile that commercial passengers and private river runners will take with them when they go back to wherever they came from. They'll read about Grand Canyon Youth ... and throw a couple of bucks their way or make a donation."
GCY provides river trips for youth on the San Juan and Colorado Rivers along with a Wilderness Explorer program on the Green River that helps youth discover the Colorado River watershed. They also offer custom programs for the Grand Canyon and on the San Juan River.
GCY asks participants to earn their way on trips by setting, working toward and reaching goals. While on the river students participate in service projects related to the study of the river ecosystem. GCY's goal is to keep the trips affordable for participants, who often will have fundraisers to offset the costs. Additionally, GCY works with Native American youth and collaborates with tribal agencies.
Now that "Flipped Out" is available, Myers said the proceeds will help ensure these opportunities are available to more kids.
Getting the book on the market took Myers longer than anticipated.
The book died and was resurrected several times, almost lost while he worked on other projects including some of Myers more famous Grand Canyon books, "Fateful Journey" in 1999, "Over the Edge: Death in Grand Canyon" in 2001 and "Grand Obsession" in 2007.
But Myers held onto the idea and the photographs he received. Several slides, taken by Curt Smith, were in Myers' possession for 15 years.
"I finally sent him back his slides," Myers said. "His addresses had all changed, I called the number, it still worked - it was a landline and his wife answered and I told her who I was ... he was happy that his slides made it into something rather than just sitting and collecting dust in his closet."
Many of the shots are what Myers calls 'orphan shots' - the undesirables of the photographer's world but what he considered to have the ability to tell the raw, undramatized story of a river running experience through the Grand Canyon. Some are vintage shots taken on a Polaroid camera - real shots showing raw, grainy, jaw dropping subject matter.
To complete the book, Myers partnered with Bronze Black a river guide and freelance graphic designer, illustrator and photographer.
"Most of the text lends itself to (the) pictures, they wouldn't fit anywhere -they are orphan shots," he said. "It's not about how sophisticated these are - its subject matter."
Myers said he didn't want the book to focus only on boat flips because, like the pictures in the book, there is more to a river trip than what first meets the eye.
"I think that boats actually flipping or having flipped only are about three dozen pages, almost three-quarters of the book isn't flips - it's about being flipped out for the place," Myers said. "We wanted to keep the reader guessing, they won't know what might be on the next page. The next page will be so different from the last that you'll be guessing the entire book. You have no clue what's coming next - kind of like going around the bend in the Grand Canyon."
Because all 218 pages of "Flipped Out" are full color, Myers and Black had the book printed in Korea to save on publication costs. Now that it is finally for sale, Myers is excited for people to enjoy it and hopes it will lend a hand in helping bring awareness to GCY.
Copies of "Flipped Out" can be purchased directly from GCY or at local bookstores and outdoor stores in the Flagstaff area. It is also available in select bookstores at Grand Canyon National Park.
More information about GCY is available at Grand Canyon Youth..