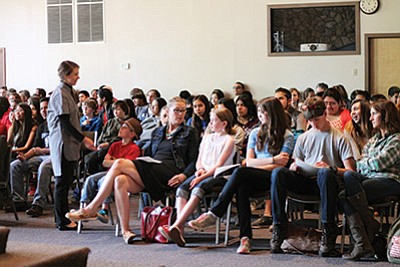 Originally Published: March 7, 2016 1:11 p.m.
GRAND CANYON, Ariz. - 'To be or not to be?' A question that has been asked for over 400 years was again put forth to middle and high school students from Grand Canyon School during a production of Shakespeare's 'Hamlet.'
The production was put on by The Utah Shakespeare Festival March 2 at the Shrine of the Ages.
'Hamlet,' a tragedy by William Shakespeare, was written in the early 1600s and is perhaps one of his best-known and most-quoted plays. With over 4,000 lines, it is also the longest Shakespearean play.
While the traveling acting group gave an abridged version of the play, students didn't seem to mind that it was still an hour and a half long. They sat spell bound, intrigued by the actors and the drama and delivery of the production.
"The kids liked the play much more than they thought they would," said Carol Frischmann, a high school English teacher at Grand Canyon School (GCS). "They didn't expect to be so involved in the story. Students attributed their fascination with the actors' abilities to involve them both by seeming to speak to each individual viewer and portraying deep and convincing emotions.
Frischmann said after the performance students commented that, 'the situations felt real' and 'watching actors in the Shrine, as opposed to simply reading or watching films of the play' and 'the live performance made the play much easier to understand.'
The event was sponsored by the Grand Canyon Community Library to benefit local school kids and was made possible through a partnership between GCS, the National Park Service and the library outreach program.
"We wanted to make some things happen in that community for the kids that would be kind of unusual, just a unique experience for them," said Judy Finney, library manager for Outreach Services with Flagstaff City-Coconino County Public Library.
Finney knew about the Utah Shakespeare Festival's Shakespeare-in-the-Schools touring production and started making arrangements over a year ago for the production to perform at the Grand Canyon.
This year the troupe performed the famous and monumental story of Hamlet. GCS students in grades sixth through 12 attended and members of the public were also invited.
The Utah Shakespeare Festival will tour from January to April. According to the touring group's website, the Festival will take its production of 'Hamlet' to more than 25,000 students in five western states. The tour will spend 14 weeks on the road visiting schools, community centers and correctional facilities in Utah, Nevada, Wyoming, Colorado and Arizona with over 65 performances for more than 120 schools.
The educational outreach program has been touring for 22 years and features a 75-minute version of Shakespeare's 'Hamlet,' including costumes, sets, and theatrical lighting. Also included is a fifteen-minute post-show discussion with the actors and workshops for students in Stage Combat, Performing Shakespeare's Text, Technical Theatre and Developing Character through Improvisation.
The cost for the full program is $1,000, plus additional fees for workshops. Friends of the Flagstaff Library helped fund the outreach program in addition to a grant received by the library from the Utah Shakespeare Festival.
Finney partnered with GCS's English and drama teachers to get students involved in dramatic, live performances and to support the teacher's curriculum.
"They were reading 'Hamlet' this year in some of the upper, high school grades, so it helped them prepare for it and understand what they were seeing a little better," Finney said. "It was also an opportunity for them to work with those young actors with the improv and stage fighting workshops. We wanted to provide an enriching experience for them."
The tour company provides discussion questions to teachers to help guide student discussion both before and after the performance. Questions include comparison and contrasts of characters, relational questions to Shakespeare's characters and textual questions for specific scenes.
"Shakespeare wasn't meant to be read, it was meant to be seen and heard," said Allie Babich who played Hamlet in the play, in response to a member of the audience asking how the actor's learned to appreciate Shakespeare. "That's my biggest piece of advice, don't read it - see it."
Frischmann said students hope the Flagstaff - Coconino County Library will again be able to receive a grant to bring, "Midsummer Night's Dream," a Shakespearean comedy of love and fools, to Grand Canyon next spring.
More information and a complete tour schedule for The Utah Shakespeare Festival is available at bard.org.
More like this story