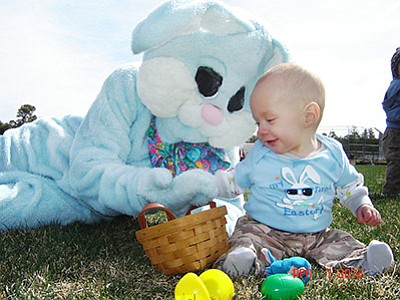 Originally Published: March 21, 2016 10:14 a.m.
GRAND CANYON, Ariz. - On March 26 the sports field at Grand Canyon School will be blanketed with over 500 brightly colored Easter eggs all sporting little prizes and candy inside.
The annual egg hunt is a free event for children from zero to 12 years old and is hosted by Grand Canyon Rotary on the Rim. The annual tradition features games, prizes and more.
"It's a tradition and it's our way of giving back to our community," said Yvonne Trujillo president elect for the Grand Canyon Rotary Club. "We don't expect anything in return for it, we just want the kids to have some fun."
This year Trujillo said they have organized the egg hunt into groups by the children's age.
"We'll stage it so the younger kids go first," Trujillo said. "That way if parents have multiple kids they can take pictures of their children."
The hunt starts at 10 a.m. and will be followed by games for the entire family. The Easter Bunny will also be available for pictures. There will be first, second and third prizes in each age group for children who find 'special eggs' during the hunt.
Before the egg hunt everyone is welcome to stop by to support the Kaibab Learning Center (KLC) during its annual Easter weekend pancake breakfast. The menu includes pancakes, sausage, eggs, milk, coffee, hot cocoa and orange juice.
The breakfast will be held at the Kaibab Learning Center, 1 Mohave St Grand Canyon, Arizona from 8 to 10 a.m. and costs $5 for adults and $3 for children.
"It is really important to support the children (which) helps provide for the kids to be successful at kindergarten and early education," said Claudia Rosales assistant director at KLC.
The rotary club is helping KLC with supplies for the pancake breakfast and will be helping to serve breakfast. All proceeds from the event will go directly back to KLC to help with playground materials and classroom supplies.
KLC provides childcare for children from birth to twelve years. The non-profit was founded in 2001 and currently has 40 students enrolled with a six full time and three part time teachers. The center's primary sources of funding is through fundraising and donations by local businesses.
In addition to its daycare/pre-school services and after school programs, KLC plans to start offering summer camps. The camps will be available for children from five to 12 years old and will start the week after Grand Canyon School (GCS) goes on summer break and ends the week before GCS starts. The camp will run from 12:30 - 4:30 p.m. and costs $770 per child for the summer. More information about the camps is available from KLC at (928) 638-6333.
More like this story