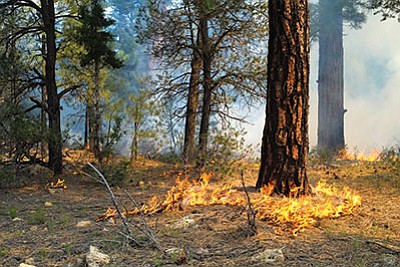 Originally Published: May 24, 2016 11:59 a.m.
TUSAYAN, Ariz. -Because of above normal precipitation and cooler temperatures over the last month, conditions on the Tusayan Ranger District of the Kaibab National Forest are within prescriptive levels and are suitable for fire managers to continue treatment of the 8,000-acre Russell Prescribed Fire project southeast of Tusayan.
Crews plan to begin burning near the area of Russell Tank and the Arizona Trail beginning May 27 and expect to complete a 429-acre unit by the end of the following day. Smoke may be visible from Highways 64 and 180, and from the communities of Valle and Tusayan, but is not expected to impact residential areas.
Fire managers strive to minimize smoke impacts and will only conduct ignitions when conditions exist that will allow smoke to ventilate away from sensitive areas. Smoke is expected to disperse to the northeast during the day. Residual smoke may settle into drainages and low lying areas overnight but will dissipate rapidly throughout the morning hours. The Arizona Trail will remain open during operations, but hikers are advised to use caution and observe signs and directions posted along the trail.
Notifications of upcoming prescribed burns are provided regularly throughout the season. The public can find this information online or through the recorded hotline.
More information is available from the Kaibab National Forest office's fire information recorded hotline at (928) 635-8311, on Twitter at www.twitter.com/KaibabNF or at the Kaibab website "News and Events": http://www.fs.usda.gov/kaibab.