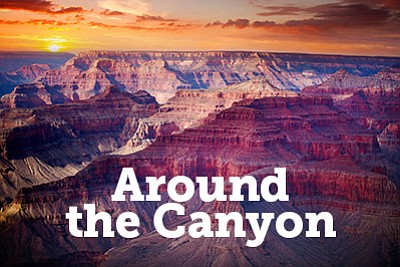 Originally Published: May 31, 2016 9:25 a.m.
Free Health Screenings
On June 17 free health screenings take place provided by Northern Arizona Healthcare at the Rec. Center. Screenings are available to all Grand Canyon residents and include free diabetes, blood pressure and cholesterol screenings from 9 a.m. to 3 p.m. Northern Arizona Healthcare is able to offer this health screening event through a grant and participation in the event helps ensure programs like this continue to be offered in the community. Appointments are not necessary. More information is available at (928) 853-0879.
Music on the Green
Music on the Green, a free community concert takes place at the Grand Canyon School Track June 18 from 1 to 5 p.m. Several local musicians of varying genres will perform. Everyone is invited to celebrate World Picnic Day and pack a meal to enjoy during the concerts. Local community organization are invited to fundraise for their clubs during the event. More information or to RSVP for a fundraiser opportunity is available from Audrey Sulit at postscript.canyonjazz@gmail.com.
Vacation Bible School June 20-24
A Vacation Bible School (VBS)sponsored by Grand Canyon Community Church will be held June 20-24 at the Shrine of the Ages building from 6:30 to 8:30 p.m. Children from four to those who have completed fifth grade are welcome to participate. More information or to register is available from Patrick or Katelyn at (928) 638-2340 or at gccommunitychurch@gmail.com.
Wilderness First Responder class
The Grand Canyon Field Institute will host a wilderness medicine education course June 6 - 15 at the Grand Canyon. The 80 hour Wilderness First Responder (WFR) course provides training for medical and evacuation decisions in remote locations. The course provides classroom lectures and realistic scenarios where mock patients will challenge you to integrate what you learned. Learning takes place indoors and outdoors regardless of weather conditions. More information and to reserve a spot is available at (866) 471-4435 and www.grandcanyon.org. Nols Wilderness Medicine Institute is the leader in wilderness medicine education since 1990. More information is available at www.nols.edu/wmi.
Rec Center summer hours
The Grand Canyon Rec Center has extended its hours for the summer. Starting May 1 the Rec Center will be open seven days a week from 5:30 a.m. to midnight Monday through Friday and 6 a.m. to midnight on weekends. All services and amenities will be available including the weight room and internet access.
Summer Day Camp
Kaibab Learning Center is offering Summer Day Camp Monday - Thursday from 12:30 to 4:30 p.m. during the summer. The camp is for children ages five to 12 years old. Daily and weekly rates are available. The camp will offer field trips, theme weeks, sports activities and guest speakers. More information is availabe at (928) 638-6333.
Bountiful baskets
Bountiful Baskets is a food co-op, bringing fruits and vegetables to the Grand Canyon alternating weeks. The co-op offers a conventional produce basket generally including half fruit and half vegetables. The monetary contribution is $15 and is usually worth $50 retail. Organic baskets require a contribution of $25. To participate, visit bountifulbaskets.org
Pick-up location is the Grand Canyon Community Rec Center.
Grand Canyon Yoga
An all level yoga class, taught by Jennifer Allen, meets from 5:45 to 7 p.m. on Wednesday nights at the Grand Canyon Recreation Center, 2 Mohave Street Grand Canyon.
Grand Canyon AA
Grand Canyon chapter of Alcoholics Anonymous meet three times weekly at the South Rim on Mondays. Wednesdays and Fridays in the Kachina Room of Kachina Lodge. Meetings for the group begin at 7 p.m.
Orienteering Club
The Grand Canyon Orienteering Club meets every other Friday at 3 p.m. at the Grand Canyon Rec Center. All ages and skill levels are welcome.
Children's Church
Grand Canyon Community Church is launching a children's church that takes place Sundays from 11 a.m. to noon for children from three years old to sixth grade. The church meets at the Shrine of the Ages auditorium in Grand Canyon National Park.
Grand Canyon School Boxtops for Education
Grand Canyon School is collecting Boxtops for Education and Campbell's Soup Labels for Education. The program is sponsored by Kellogg's products with each redeemed label worth anywhere between 10 cents to over a dollar. The money earned helps purchase school supplies and equipment. Submission dates are Nov. 1 and May 30. Please save, cut and bring labels to. Lori Rommel at the Grand Canyon School office or to the following drop off sites: Kaibab Learning Center, Grand Canyon Recreation Center, Delaware North and Xanterra Human Resource office. More information is available from Lori Rommel at 928-638-2461 ext. 408.
Rec. Center Smash Nights
Grand Canyon Recreation Center is offering Smash Nights on Wednesdays from 7 to 9 p.m. in the Multi-Purpose Room. All skill levels are welcome, casual and competitive game play offering monthly tournaments and prizes.
Tusayan Fire seeking volunteers
Tusayan Fire Department is looking for volunteers to join its department. Those interested in being part of the tradition and the excitement of firefighting while serving in the community are encouraged to become a volunteer. More information is available from Tusayan Fire Department at (928) 638-3473 or by stopping by the department Tuesday through Friday between 8 a.m. to 5 p.m.
Acro Yoga
Acro Yoga is an informal class combining yoga and acrobatics to create an uplifting experience. Classes are offered Mondays at 9 a.m. and Wednesdays at 7 p.m. at the Grand Canyon Recreation Center.
Yongshidao Self Defense Class
Learn how to defend yourself with Mater Michael Martinez at his Yongshidao self defense class. The class is free and meets twice a week, Sundays and Tuesdays from 7:30 p.m. to 9 p.m. at the Grand Canyon Recreation Center, 2 Mohave Street Grand Canyon.
Grand Canyon Lions Club District D21
The Lions club meet the first and third Wednesdays of each month at 7:30 p.m. at the Canyon Plaza Resort, located behind the IMAX® Theater on Highway 64. Anyone in the community is invited to attend.
Zumba with Haley
Zumba with Haley is a free dance class. Zumba meets at the Grand Canyon Recreation Center every Monday from 7 p.m. from 9 p.m. Zumba is a Latin inspired dance fitness program. Participants should bring exercise clothes and water.
Violin and piano lessons,/b>
Rachel Dryer is offering violin lessons to anyone interested in learning to play. Lessons are $15 for half hour lessons. She has played the violin for 15 years and teaches the Suzuki method. Rachel also offers piano lessons for those interested. More information is available from Rachel at 928-310-4327 or krachelsmith@gmail.com.
More like this story