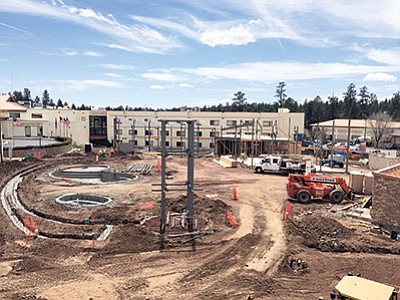 Originally Published: May 31, 2016 9:47 a.m.
TUSAYAN, Ariz. - The Best Western Premier Grand Canyon Squire Inn in Tusayan has been in the midst of a substantial multi-million dollar renovation and addition project for over a year.
With the completion of a new indoor pool and fitness facility, outdoor pool, two Jacuzzi tubs, bar, bathroom and children's play area, they are hoping to wrap up construction.
"It's going to be awesome, like nothing else up here," said David Chavez, general manager of the Squire.
Renovations to the hotel's 3,000 building was completed last year, along with a new 8,000 building, which provided the hotel with an additional 68 rooms and a new laundry facility. The project completed the end of 2015 with the new rooms being made available this year.
Chavez said the new additions to the hotel, especially the laundry facilities that offer state of the art commercial washers and dryers, has been a huge asset to the hotel. Finishing the swimming pools and additional facilities will complete the construction projects. Chavez said water for the pools will be supplied from the hotel wells.
"Swimming pools are actually a good use of water because they are not water intensive," he said. "They're definitely not as water intensive as grass."
The pool and other additions should be open by August.
"We're shooting for August and we're actually making pretty quick headway," Chavez said.
More like this story