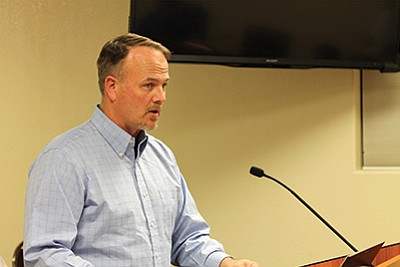 Originally Published: May 31, 2016 9:50 a.m.
TUSAYAN, Ariz. - Tusayan residents can rest easy knowing law enforcement will continue to be a permanent presence in town after a five year intergovernmental agreement (IGA) was signed between Coconino County Sheriff's Office (CCSO) and the town of Tusayan May 18.
CCSO has provided law enforcement for the town of Tusayan since 2010. The original IGA lasted five years and 10 months with the town paying out almost 2.1 million over that period. The new IGA is more than a $600,000 increase over the next five year period for the same services.
According to Tusayan Town Manager Eric Duthie, negotiations between the town and CCSO have taken place over the last several months and an agreement was reached after all indirect costs, which include increased salary and operating expenses to the county, were taken into consideration. During initial discussion between CCSO and town officials, the sheriff's office asked for $690,431 per year for the first year of services with open negotiations to occur each year afterward. Sanderson and Duthie were able to negotiate with CCSO and reached a final agreement of $497,505 per year with a four percent annual increase. Over the next five years the town will pay out over 2.5 million to CCSO.
"We agreed rather than an annual re-negotiations (to) just a flat four percent increase each year," Duthie said.
Council members voted unanimously to approve the agreement. Both parties have 120 days to submit a notice of cancellation, starting at the time the IGA was signed.
Additionally, the IGA, which expires in 2021, provides a one year agreement with automatic renewal each year. If at any point either entity decides to opt out of the contract they have that option.
In the past Tusayan has discussed options for law enforcement presence in Tusayan, including the creation of its own police department. Duthie said that while that is never a closed door there are several limiting factors that would need to be addressed before that could become a feasible option.
"At this point there is not just financial concerns about how much a police department costs but liability and equipment issues, but the primary issue is housing. If we start our own police force and (have) our own employees, where are we going to house them?" he said. "That's a limiter that has to be addressed and that goes well beyond whether we have a desire to create our own. We don't have an option to provide housing for it."
Tusayan Mayor Craig Sanderson pointed out that having CCSO provide law enforcement presence is beneficial because of the size and resources it provides.
"We do actually have a benefit of pulling in the resources from the entire sheriff's department that would respond, so there is a benefit to this contract as opposed to having our own force," he said.
Brian Tozer, patrol lieutenant for CCSO said having a law enforcement presence in remote locations like Tusayan is important because it cuts down on response times and has the potential to keep crime rates lower.
"Tusayan is like a lot of communities, you have a high transient population with a lot of travelers and your work force is seasonal so you have the potential for crimes to occur or a whole number of things, so having somebody present to be a visual deterrent and respond to calls for service and be a proactive type of enforcement there is important," Tozer said.
Having a full-time deputy living in Tusayan is part of the IGA between the town and CCSO. The sheriff's office has had a hard time keeping deputies in Tusayan because of the remote location.
"When you have a family and it is more remote, it's farther to drive for just about anything you do, it's a little more difficult to entice people to go up there," Tozer said. "Even having housing for them - anytime you have a remote location it is always more of a challenge to get people to live there."
Tozer said they do have an individual interested in the Tusayan position and hope to have a deputy in Tusayan within the next six months. Before the deputy can be stationed in Tusayan they have to go through a series of testing and field training.
"We are trying to get somebody up there as soon as possible because obviously it's nicer to have somebody stationed there than it is to have somebody drive up every single day," Tozer said.
While it has been difficult to find housing for a full-time deputy, Tozer said housing arrangements have been made for the incoming deputy.
Tozer said the department would never leave any town or entity within the county without law enforcement and said in the future if Tusayan decides to create its own police force, they would continue to support and work with that entity.
"In the future if they decide they want to go with their own law enforcement we would continue to work with them until they were able to fulfill their needs there," he said.
For now Tusayan officials said having CCSO provide a law enforcement presence is essential for protecting and serving both visitors and residents.
"From our remote location and the fact that being such a small community serving so many visitors there's always potential for some issue to occur," Duthie said. "Whether its traffic or criminal related, search and rescue needs - that's always present, so we strongly want to make sure we have some sort of law enforcement present for those purposes. To ensure the safety not only the guests but residents too."