Originally Published: November 8, 2016 11:58 a.m.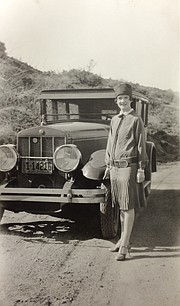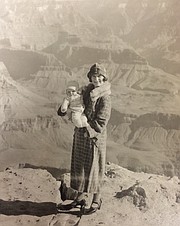 GRAND CANYON, Ariz. — It was meant to be the "War to end all wars." As new lines were drawn and empires clashed across Europe, the United States stormed to the front lines in waves beginning in 1917.
Casualties were staggering: 10 million dead or missing in action, more than 20 million more wounded in combat.
World War I marked the first time that women actively served overseas with their male counterparts, and Lillian Catti, a 21 year old nurse from New Mexico, was one of the first to offer her services at the Flagstaff recruiting office.
Catti was born in New Mexico to Anthony Catti and Mary Rolando, both Italian immigrants. After completing her education at St. Joseph's Hospital in Albuquerque, she joined the U.S. Army nursing corps out of Houston, Texas. She was one of the first women in the U.S. Army nursing corps to volunteer for front-line duty in France. She was scheduled to leave for the front with a large contingent of nurses in the summer of 1918, followed by her sister, Margaret, also a nurse. Her brother, John Catti, was already fighting in France.
Although she was scheduled to leave for Europe, the armistice and Treaty of Versailles officially ended The Great War before she left for the front.
Catti continued her work as a nurse in northern Arizona. She eventually took a position with the Grand Canyon Hospital, where she tended both visitors and the community.
According to newspapers, Catti was known for leaving the confines of the hospital to treat patients in the secluded outlying areas. Her willingness to serve the community earned her the nickname "Good Samaritan of the Grand Canyon."
When the American Legion established John Ivens Post #42 at the Grand Canyon in 1923, Catti was one of the initial members. Within nine years, she had held every office within the Legion except adjutant.
Her service to her country, the Legion and the community earned her another rare distinction: she was unanimously elected commander of the John Ivens Post in 1932.
At the time, she was only the third woman in the history of the Legion to be elevated to the position of commander, and the first in Arizona.
As commander, Catti presided over a legion post that was unique — it's location in the Grand Canyon meant that it saw veterans from all over the world come into its club rooms in the park's community center.
After her stint as commander, Catti married a local trail guide, David R. Tankersley, and they had a son, Thomas. Her marriage didn't last, however, and she moved to Los Angeles with her son in 1944. She kept her ties to the Grand Canyon, though, forming a local "Last Man" club with approximately 40 other former Grand Canyon residents who had relocated to southern California over the years.
Lillian Catti Tankersley died in Los Angeles in 1956.