Originally Published: November 22, 2016 10 a.m.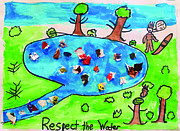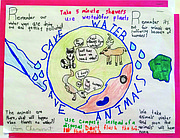 GRAND CANYON, Ariz. — Grand Canyon students Jaemie Jensen and Rem Cheneveret made an impressive showing in this year's fourth grade Water Ethic Contest, sponsored by the Coconino Plateau Watershed Partnership and the Willow Bend Environmental Education Center. The annual contest is open to all schools in Coconino County and involves writing an essay and creating a poster depicting a water ethic.
The contest was created as a way to introduce the concept of ethical water use and stewardship to elementary-aged children while promoting water conservation and addressing environmental water health. The posters will be on display and open to the public at the Coconino County Administration Building Nov. 21-28.
Jaemie Jensen took first place overall in the contest for her essay and poster about a Native American chieftain who found a mountain river full of trash.
It was the first time he had ever seen the river, she explained, and he was upset to see it trashed.
Rem Cheneveret took second place for his artwork about animals and their need for fresh water.
"If we don't have water, we won't have animals," he said. "If we take all the water for ourselves, what will be left for the animals to live on?"
Contest winners got some fun prizes, including a class pizza party for Jaemie and "water superhero toolkits" for the classroom. Additionally, fourth grade teacher Rita Linneman received a total of $500 to spend on her classroom.
More like this story