Originally Published: November 29, 2016 9:54 a.m.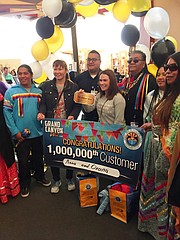 GRAND CANYON WEST — A skyrocketing number of visitors to the Grand Canyon Skywalk, the Hualapai Lodge and other Grand Canyon West tourism experiences has made 2016 a record-setting year for the Grand Canyon Resort Corporation.
On Nov. 14, 2016, Grand Canyon West recorded its one millionth visitor for the year. That milestone came a full five weeks before last year's millionth-visitor celebration, which was recorded Dec. 21, 2015.
This year's attendance record was celebrated by treating the two record-breaking visitors — Anna Smirnova and Oxana Karaseva, touring the West Rim from Moscow, Russia — to the full range of experiences available to Grand Canyon West guests, including a tour of Skywalk, a helicopter tour of the Grand Canyon, a horseback ride and a pontoon boat adventure along the Colorado River.
"To have another record-breaking year in 2016 on top of last year's record year is very special for Grand Canyon West and our more than 1,000 team members," said Dr. Damon Clarke, chairman of the Hualapai Tribal Council. "Skywalk continues to flourish and it continues to get better as we improve the visitors' center and add new restaurant and event space. We have big plans for Grand Canyon West. And, of course, we want to keep making sure that every one of our guests has the visit of a lifetime."
Grand Canyon West, operated by the Grand Canyon Resort Corporation (GCRC), is owned by the Hualapai Tribe. GCRC oversees operations of Grand Canyon Skywalk, Hualapai River Runners, Hualapai Ranch, Walapai Market and the Hualapai Lodge. Final attendance for 2016 is expected to top more than 1.1 million visitors by year's end, another double-digit increase over the year before. The jump to one million visitors in 2015 represented an increase of more than 13 percent compared to 2014.