Originally Published: October 18, 2016 10:24 a.m.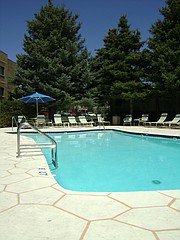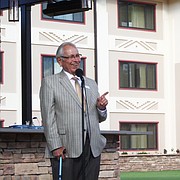 TUSAYAN, Ariz. — The Best Western Premier Grand Canyon Squire Inn recently announced the completion of its latest major addition, scheduled to open to the public this fall. The new additions, including a resort-style outdoor patio and pool, outdoor bar, and guest rooms and suites, are all part of a larger plan to expand the property over the next 10 years.
Elling Halvorson, one of the property's owners, spoke at the event of the growth the region has undergone since he first came to the area more than 50 years ago.
"I first came to the Grand Canyon in 1963 to bid on a project to bury a pipeline across the Canyon from rim to rim," he said. "During the project, I moved my whole family down here from Seattle, Washington. I went down into that canyon every day for about two years and I fell in love with the area, my whole family did."
on the pipeline project, Halvorson said he had a vision about the possibility of having a hotel in the area.
"The Park Service hotels were pretty much filled—there were about a million and a half people coming to the park (each year) at that time," he explained. "So I purchased some property and I talked with people in the park, the Park Service, Fred Harvey and so forth. They said it would never work, that I could never get it to click."
Obviously, it clicked.
Today, Tusayan is a thriving community of businesses, a bustling gateway minutes from the Canyon entrance. Halvorson's hotel is one of many, and one of only a handful of upscale premier-status Best Westerns nationwide.
"I'm really happy to be able to stand here today, to show you the progress that we've been able to make," he said. "We're happy to be able to add this to the community and to the state of Arizona."
The recently-completed project includes a new building with standard rooms and suites, a re-imagined indoor and outdoor pool area, a fitness center, and a full-service patio bar. The older buildings received a facelift and a new exterior paint job.
While the pools and fitness center are reserved for guest use only, director of sales and marketing Freda Rahnenfuehrer said that the patio and bar area will be open to the community.
"We wanted to have a place where community members can go and just hang out together," she said. "We wanted that open feeling."
Rahnenfueher said that the project was only a part of the continued property improvements over the next few years.