Originally Published: April 4, 2017 10:29 a.m.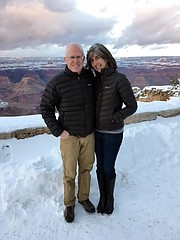 GRAND CANYON, Ariz. — Sunsets at the Grand Canyon are spectacular, and Jon Streit has watched a lot of them over the past 20 years at the helm of Xanterra. April 7 will mark the last sunset Streit will take in as general manager of Xanterra Parks and Resorts' South Rim operations.
Streit came to the Grand Canyon in 2007 after a tenure at Yosemite National Park in California, along with his wife, Suzette, and their three children, Chris, Monique and Luke. He has spent a total of 34 years working in national parks.
It's a tradition that he's passed on to his sons, as well — Chris is currently a full-time park ranger at Kings Canyon/Sequoia National Park in California and Luke serves as a seasonal ranger at Grand Canyon while he finishes college in Flagstaff.
Streit helped usher in Xanterra's 15-year contract with the National Park Service in 2012 after a lengthy and tense process that involved litigation and lasted more than three years before it was officially approved in 2015. During that time, NPS split the concessions contract and offered both parts up for bid. Delaware North is currently operating Desert View, Yavapai Lodge and Camper Village, and Streit said working with the company to make a smooth transition was a challenge, but one that ultimately proved successful.
When asked about his greatest accomplishment, Streit chuckled and mentioned surviving for 20 years in a job weighted with both the responsibilities of the guest experience and employee morale.
Joking aside, however, he describes his greatest accomplishment not as negotiating contracts worth millions of dollars, but rather as building a workforce that's dedicated to making the national park experience a great one for park guests.
"We've created a confidant and successful team here at the South Rim," he said. "I didn't build it on my own, but over my 20 years here, we've built a great team of dedicated employees."
After running the park's largest concessioner for two decades, Streit said he foresees a smooth handover when he locks his office for the last time this Friday. He said numerous projects were in various stages of development and negotiations with NPS, but he expects his replacement to step and shepherd them through the process with ease. Mia Bell, the former assistant general manager of Xanterra's operation at Yellowstone National Park, is a veteran with 30 years of experience. Streit said Bell will be able to step in and hit the ground running.
"Mia's a seasoned professional," Streit said. "She's been at Yellowstone, she understands the park service and she understands Xanterra. She's going to come in and do a great job."
The Streits won't be heading far away, however — they plan to move to their home in Flagstaff, where they've been doing renovations over the last couple of years.
"It's pretty exciting," Streit joked. "We've never lived in it. It's pretty close to move-in ready."
Even though he's lived in the national parks for the majority of his adult life, Streit said he's looking forward to outdoor activities that he hasn't really had the time to enjoy, although he lives in the midst of one of America's most outdoor-centric communities.
"I plan on riding my bike more, hiking a lot more and camping a lot more," he said. "I'm going to spend time with family and friends and do some traveling."
Streit said his wife Suzette deserves a lot of credit for her supporting role in his national park experience for the past 34 years, including raising three kids and volunteering in the community at every opportunity.
In Grand Canyon, Suzette served on the school board, participated in reading programs and even served lunches to the students. At Yosemite, he said, she helped co-found a cooperative preschool.
"She's made sacrifices to live in the national parks, in a remote place, and to help raise our kids" he said. "She is a teacher by trade, and she never practiced her profession in order to be a stay-at-home mom. This has been our life together for 34 years, and now we're ready to start a new chapter."
Streit said he'll miss the one-of-a-kind experiences at Grand Canyon — watching the sun rise, walking his dog along the rim and frequent visits to Phantom Ranch — but it's the people who have had the most impact on his time at the park.
"You know, Grand Canyon is a beautiful park, the scenery is beautiful, but what really makes it special is the people who live and work here," he said. "You have to decide to make this (living in the parks) a long-term lifestyle, and that is what makes these employees stand out."
More like this story