Originally Published: August 1, 2017 10:30 a.m.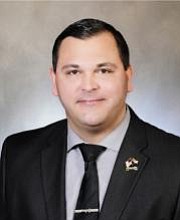 PHOENIX — Finding a job has never been a particularly easy task, but veterans seem to languish in unemployment limbo longer than the non-veteran population, according to the Bureau of Labor Statistics.
The Arizona Department of Veteran's Services (ADVS) recently started a program called the Veterans Tool Kit, which is designed to remove some financial barriers for veterans actively seeking employment.
Sometimes, it's just a matter of needing a small financial boost, says John Scott, AVDS assistant deputy director. Scott and AVDS director Wanda Wright recently toured Arizona asking veterans how the agency could help them obtain employment. Scott said vets were willing and ready to work, but many of them hit a financial wall when it came to buying the things they needed to get and keep a job.
"It could be something as simple as 'I could start work tomorrow, but I need transportation and my alternator went out. I found a place that will fix it for $500. Can you pay for that?'" Scott said. "My answer is 'Sure. If you're going to start work on Monday, let's make it happen.'"
Other needs might include business attire, certain tools, a bicycle for transportation or even a pair of work boots.
ADVS said 62 percent of the veterans they polled said they would have a job immediately if they had access to the Veterans Tool Kit program.
Scott also said the program isn't restricted to just one industry.
"People think because it's called the toolkit, it's just for construction," he said. "If your application shows you've done the leg work looking for employment, you have a potential employer, and you just need a few things to start that job, we can help."
In order to qualify for the program, applicants must be Arizona residents, be enrolled in an Arizona Department of Economic Security (DES) employment program and identify the job they need supplies for.
Wright noted the program is only for veterans who do not have a job. There is a limit of $750 per veteran. The pilot program is funded though Arizona Department of Transportation veteran license plate sales.
More information on the nearest DES office can be found at https://eol.azdes.gov/ or by calling (602) 255-3373.