Originally Published: August 8, 2017 10:59 a.m.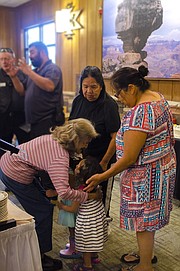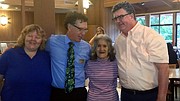 GRAND CANYON, Ariz. — If you ask Letha Talasyousiea what she will miss the most about working at the Grand Canyon, she will give a big smile, a grand hand gesture and say, with great enthusiasm, "Everything!"
That enthusiasm has been ever-present since Letha came to work at the Grand Canyon from Second Mesa on the Hopi Reservation in 1971, not including the many years she spent as a seasonal employee. She began her service with Xanterra as a housekeeper for Bright Angel Lodge. Her supervisor, Food and Beverage Director David Beckerleg, said her work ethic was second to none.
"She was the type of employee that you could depend on to do her work and do it well," he said. "She never needed to be checked up on."
After 21 years, Letha transferred to Maswik Lodge, where she has been bussing tables and showering guests with Hopi hospitality since 1982. It's one of the most rewarding parts of her job, says her daughter, Edwina, who also works at Maswik Lodge.
"That is who we are as Hopi," she said. "We are the Bear Clan, and we see all people as our children. It is our duty to take care of them as our own."
Although she doesn't frequently travel back to the reservation these days, Letha is an elder of the Bear Clan of Hopi. She recalls her days on the reservation with another enthusiastic "Everything!" From harvesting and grinding corn to performing the ritual ceremonies and dances, it's an integral part of everything Letha does. She is the Mama Bear, as evidenced by the outpouring of support and congratulations from her Grand Canyon co-workers — everyone from fire fighters to chefs to security guards and managers turned out Aug. 3 to wish her well.
The retirement party was a surprise organized by co-workers, and Letha with hugs and a few tears, was the belle of the ball.
Dennis Tacey, assistant food and beverage director, said beyond being a dependable and cheerful employee, Letha brought a little humor to work with her as well.
"She worked with another employee in the dining room who happened to be Havasupai, and they would divide the dining room and only work their half," he said. "She joked that her side was Hopi land and Iva's side was Supai land, and they didn't cross into each other's territory."
That sentiment was echoed by Beckerleg, who said along with having a hug for each and every person, she also might have a joking poke in the ribs.
Letha was a bit sad at the prospect of leaving her job, even at 86 years old, and definitely long after most workers have begun contemplating the retired life. Her grand-daughter, Jimelia Talasayousiea — the third generation to work at Grand Canyon — said it was her interaction with people from all over the world that she would miss the most.
On the other hand, she won't have to be at work at 6 a.m., as she has been without fail for 25 years.
Letha plans to stay at Grand Canyon with Edwina, who lives with and cares for her mother. Asked what she plans on doing with her time now, Letha grins and says she'll be watching more television. One of her favorite shows, she said, is Judge Judy.
After being presented with a gift from Beckerleg on behalf of Xanterra, Edwina and Jimelia helped Letha hand out a few gifts of her own, traditional Hopi symbols and arts. It is the Hopi way, Edwina explained, to give and share what one has with others.
Letha has been sharing her spirited good nature with canyon visitors and residents for nearly 50 years – and she doesn't plan to stop anytime soon.
More like this story