Originally Published: August 29, 2017 1:14 p.m.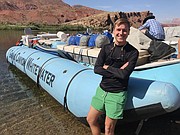 GRAND CANYON, Ariz. — When Mikah Meyer embarked on his first independent road trip at 19 years old, it was to find healing and inspiration after the death of his father.
Meyer achieved both of those goals, and found a love affair with the open road in the process.
Now, a decade after that transformative trip, Meyer is on a mission to travel to all 417 U.S. national parks in one continuous trip — a world record-setting task.
And this time, it's not about himself, but about showing the diversity of public lands themselves, while encouraging all visitors to find a park that resonates with them personally.
Initially, Meyer set out to highlight the diversity of the national park system. His premise, he said, was the national parks offered something for everyone, even Average Joes who weren't "champion trail runners."
He published an article ahead of his three-year road trip, and he was stung by an obvious criticism that he had overlooked. It came in the form of a comment posted to a Q and A he did with the National Parks Foundation:
"I love you guys but seriously... a young, white, able bodied dude saying he hopes his story can show people of color that the NPS represents their stories too??? Uh... how?!"
That one comment caused Meyer to rethink how he had been preparing for his trip to that point — by highlighting diversity but not fully engaging in what that meant.
"Part of that meant I hoped to share the diversity of the parks: that they are buildings, beaches, and battlegrounds, not just the Grand Canyon," he said. "But the other part of 'diversity' really meant 'gay.' Specially, that I'm gay."
Meyer said he had been afraid to use that word when pitching companies to sponsor his trips, afraid that they wouldn't want to be involved with something many in the country still consider taboo. Initially he refused to mention his sexual orientation, he said, until some of the sponsors and media personalities he approached searched for him on the internet and found out anyway.
After his proposal to a major auto brand was declined, Meyer thought for sure the rejection was the result of his sexual orientation.
"The first thought I had was, 'I bet they Googled me and cancelled because they found out I'm gay,'" he said.
After a friend put him in touch with a representative from the National Parks Conservation Association, Meyer once again decided to make no mention of his sexual orientation — but he was surprised to learn the representative had already found out about it for himself.
Meyer said it became part of the conversation.
"I learned that the three largest national park organizations — the National Park Service, National Park Foundation and National Parks Conservation Association — all had initiatives focused on increasing LGBT involvement for their 2016 and 2019 centennials," he said.
Addressing the stereotypes surrounding the LGBTQ community is something Meyer spent a good amount of time considering.
"What are the gay stereotypes? That we want to go shopping all the time? That we're prissy and scared of rugged work? That we're horrible at sports?" he asked.
Meyer said he assumed those stereotypes himself while growing up in the Christian conservative stronghold of Nebraska. When he began planning his national parks road trip to honor his father's memory, Meyer said he didn't expect to find any members of the LGBTQ community to share his interest.
Meyer even wrote an article for OutSports about his quandary, and he titled it "Too Outdoorsy to be Gay."
But with the motivation of his sponsors and media producers, Meyer has embraced his unique, gay, Christian upbringing. He said he began viewing it as an asset, rather than a liability.
Meyer's response to the stinging social media comment serves as a mantra to everyone visiting the nation's national parks and monuments, and it's something that lies at the heart of Meyer's very personal, public journey:
"I'm hoping to … help other minorities, whether that be sexual, racial, or otherwise, realize … whatever their unique diversity is, the national parks tell their stories."
More like this story