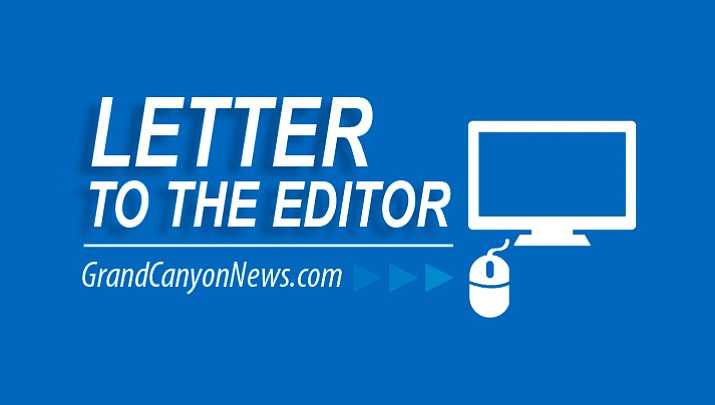 Originally Published: January 31, 2017 10:39 a.m.
To the editor:
The recent big storm left many folks in need of help. I was heartened when I received an email from the National Park Service titled: Lend a Hand: to our Grand Canyon Community. After being snowed in for five days I really needed help!
I notified the Forest Service Jan. 23 that there was a tree across Rowe Well Road about 30 feet past the NPS boundary, blocking the road into the village and my access to work, and they never did anything about it. On Jan. 25, I called the NPS superintendent's office because in the email I got from them it said "don't hesitate to contact us, as you need." That office said I would need to call NPS Dispatch, which I did. Dispatch said because the tree was out of the park, by 30 feet, there was nothing they could do, that they would get into big trouble if they came out to help. I then called the superintendent's office back to see if maybe they could convince the Forest Service to do its job. But I was told the superintendent wasn't in so they couldn't do that? Huh?
I have been a member of this community for 15 years and closely connected for more than 35. I understand about boundaries and different government agencies but in this case there were extenuating circumstances, like over three feet of snow!  I choose to live where I do, off the grid and down five miles of dirt road, and most of the time I can manage just fine. But the one time I really need some assistance-Nada!
As the Grand Canyon Community Library supervisor I attend a monthly meeting, Grand Canyon Wellness, dedicated to providing a better feeling of community between the various businesses, agencies and community members, including Grand Canyon Village, Tusayan, Valle and surrounding areas. I was very excited about this group because I remember when there really was a strong community here back in the 70's and 80's.
Lend a Hand, Grand Canyon Wellness...fat chance!
Mindy Karlsberger
Grand Canyon resident
More like this story