Originally Published: June 6, 2017 10:03 a.m.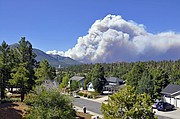 The weather is warm and breezy, there are just enough clouds to give a few minutes cover from the famous Arizona sunshine — it's a perfect time to go camping and spend the pleasantly cool evening by a campfire, right?
If there's a red flag warning, however, skip the campfire.
According to Kaibab National Forest spokeswoman Jackie Banks, the National Weather Service calls for a red flag warning for specific areas when conditions are prime for wildfires to start and spread. Those conditions include strong winds and low humidity — think warm, windy and dry. These warnings are area-specific, such as Coconino County and usually last from 11 a.m. to 8 p.m.
Banks said campers should try to avoid campfires completely on days when red flag warnings are in effect, even in developed campgrounds, for the duration of the warning.
"On red flag warning days, it's particularly important to avoid having a campfire due to the increased chance of extreme fire behavior," she said.
Conditions leading to a red flag warning mean even a small fire can spread rapidly, causing imminent danger to other campers in the area. The Schultz Fire, which burned more than 15,000 acres of Coconino National Forest near Flagstaff, Arizona, and led to the evacuations of 650 homes, was determined to have been started by an unattended campfire. A 12-year-old girl was killed in subsequent flooding and mudslides caused by the fire more than a week later.
Banks said forest service personnel step up their efforts to engage and inform the public during these warnings, as well as increasing fire patrols and staging local fire resources at strategic locations so that immediate measures can be taken should a fire burn out of control.
While Red Flag Warnings are issued on a daily basis, and only for that day, the U.S. Forest Service (USFS) at Kaibab National Forest has the ability to put fire restrictions in place. USFS uses a scale of low, moderate or high fire danger to indicate to visitors the chance of a fire event. Banks said Kaibab National Forest had moved from moderate to high fire danger as of May 31 and, if the current conditions continue, said the forest could implement Stage 1 fire restrictions within a couple of weeks.
Stage 1 fire restrictions are different from Red Flag Warnings — they are implemented for a longer period of time through an official Forest Order and there are penalties for those who don't comply with the restrictions.
Stage 1 is considered general and prohibits campfires or smoking except within a developed recreation site. Stage 2, or elevated restrictions, include the prohibition on campfires and smoking, even in developed recreation areas. Other restrictions include discharging a firearm, operating any vehicle or machinery with an internal combustion engine, or welding with an acetylene torch or open flame. If conditions are extremely dangerous, the USFS may close areas of the forest most susceptible to fires, or close the entire forest to public entry.
Banks said once fire restrictions are implemented by the USFS, they won't be lifted until the monsoon rains arrive, which is typically around mid-June. The influx of moisture causes the relative humidity in the air to rise, along with daily showers or storms, which in turn lessens the fire danger.
Banks emphasized that both the fire restrictions and red flag warnings are opportunities to help reduce preventable, human-caused wildfires.
On May 1, the Predictive Services section at the National Interagency Fire Center (NIFC) issued their Wildland Fire Potential Outlook for May through August.
According to the NIFC graphical outlooks for May through August, the Drought Monitor, and NOAA's temperature and precipitation forecasts, Arizona and western New Mexico will see an increase in fire activity in June as the region enters the heart of the fire season.
Heavy growth of fine fuels across southern Arizona and southwestern New Mexico have led to above normal fire potential along the Mexican border that should persist through June before the monsoonal rains arrive in early July and decrease activity.
As the fire season progresses into July, there are concerns with the seasonal shift west and north into California, and the Great Basin. Exceptional winter and early spring precipitation is leading to the development of a substantial crop of fine fuels in the lower and middle elevations. The heavy loading of fine fuels could become problematic when they cure out in July.
In the higher elevations, the mountain snowpack continues to melt at a normal to slower than normal rate. This should produce a delay in the onset of significant fire activity in the high elevations.