Originally Published: March 14, 2017 11:08 a.m.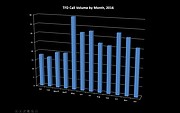 TUSAYAN, Ariz. — The Tusayan Fire Department responded to 319 calls in 2016, up from the 286 calls the department responded in to in 2015, reported fire chief Greg Brush at the March 1 town council meeting.
About two-thirds of the calls were medical calls (209), with motor vehicle accidents (39) and fire alarms/sprinkler systems (20) rounding out the top three.
Other calls include assault/domestic violence (19), wildland fires (10), miscellaneous (9), structural fires (7) and aviation calls (five). Some of the miscellaneous calls involved animal incidents, including a large mountain lion hit by a car and rescuing an injured owl stuck in a barbed wire fence, Brush said.
In response to the higher call volume, Brush said the department is working to schedule and train more personnel to make sure all shifts are adequately covered with both firefighters and emergency medical technicians. Brush said the department works to ensure that at least two EMTs are assigned to each shift.
Finding enough volunteers to staff the department has been a challenge, Brush said, and the department is always looking to supplement its four full-time staff.
"Volunteerism is down nationwide, but when you have a small population base like we do, it's a double whammy," he said. "It takes a long time to train someone, around 100 hours, but we will train inexperienced volunteers."
Breaking down the calls by month, Brush said he was surprised to see that the peak call months were May with 40 calls, followed by October with 33.
"Normally it's the summer months that see the most calls," he said.
Outside of responding to calls, fire department staff have also been undergoing different types of training to prepare for unforeseen circumstances.
In addition to the required EMT refreshers, staff have also completed ladder truck training and a terrorism awareness seminar presented by the Arizona Department of Public Safety. Department staff worked with the National Park Service on structural fire training and engineer training.
The department has also conducted safety training with officials from Canyon Uranium Mine, in which fire department staff familiarized themselves with some of the drilling equipment and developed an emergency preparedness plan.
More like this story