Originally Published: May 9, 2017 10:36 a.m.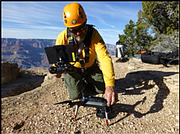 Remote-controlled cars, airplanes and helicopters have been around for decades, growing rapidly more sophisticated as science develops ever smaller, more powerful gadgets.
Now, technology widely used for toys is giving rangers at Grand Canyon National Park a powerful tool for potentially saving lives.
On average, about 250 hikers are rescued from the Grand Canyon annually, the majority of which suffered an injury or had to be evacuated because of fatigue. In addition to that number, rangers are also charged with recovering the bodies of those who succumb to their injuries, either intentional or accidental. It's dangerous work that requires a lot of precision and training.
That's where technology takes up the mantle.
Justin Jager, the interagency aviation officer for Flagstaff, Grand Canyon National Park, Coconino and Kaibab National Forests and Verde Valley Area National Monuments, said the unmanned air systems, or drones, give rangers a valuable tool that cuts down on the inherent risk to rescuers.
The drones are small quad-copters fitted with high-definition cameras, weighing no more than 10 pounds — they are agile and quick, allowing operators to fly them into areas that would take much more time to access on foot. Steep terrain, narrow slot canyons and areas along the Colorado River with heavy vegetation are challenging and dangerous for rescuers searching on foot, and for helicopter pilots who must fly in a "low and slow" pattern along with them. By flying a drone, operators can make a thorough systematic search of several areas per day.
Currently, the park has four drones in operation. The drones vary in cost, depending on what specialized equipment is fitted to them, but Jager said each one costs anywhere from $2,500 to $3,000 fully fitted out. Because of the geological area, the drones used by the Grand Canyon rangers include enhanced Wifi and GPS modules, as well as three camera options.
The drones operate on batteries, and each one has about 15-20 minutes of air time before the battery runs out. It's a limitation on the current technology, but it's something the park can work around without losing much efficiency. A portable generator allows rangers to charge the batteries as they go so they can continue searching.
Operators use a tablet with Wifi connected to a controller to view what the drone's camera is filming in real time. There are also goggles that can be connected to the tablet, allowing search officials to view the search area in a sort of virtual reality setting.
"This way, the commander of the operation or the chief ranger can see what's going on in real time," Jager said.
Cameras on the drone also record information on a media storage device, which Jager said can be viewed by an entire team on a big screen television to scan for even minute details.
In a recent search for two missing hikers, Jager said the drones make a difference because of the remoteness of the area.
"What we do is fly our operators down with the generator and about 10 batteries," he said. "The drones have about 15 minutes of air time before we have to fly them back and change the batteries. With two operators, we can constantly change out the batteries to make use of the entire day, without losing any efficiency."
Jager said the drones not only benefit search and rescue operations by providing quick, real-time data, it cuts down on potential safety hazards for rescuers and saves some of the park's already-stretched budget.
"Using a drone to fly into an area is a lot safer than crews having to rappel into a dangerous area to search," he said. "If we can avoid sending people over the rim on ropes, it cuts down on the risk to employees."
Using the rechargeable drones also saves the park a lot of money on flight hours and fuel for the helicopters, since operators can work for several hours on the bottom of the canyon without having to fly slowly back and forth to search an area.
Brandon Torres, who coordinates the preventive search and rescue efforts at the park, said that while the drones take away some of the risk and add efficiency to searches, the work is still carried out by individuals. Once the drone has identified an area of interest or pinpointed the location of a recovery, rangers must still either rappel, hike, boat or fly into the area and do the work.
"This is just another tool that we use to help us locate a missing individual," he said. "But at the end of the day, we still have to get our people to the site."
Jager said the drones are useful in other situations as well, helping to ensure the safety of others who need to know what's going on below the rim.
One example, he said, is keeping track of wildlife and vegetation in various parts of the park, some of which are very remote.
"We can use the drones to go below the rim and fly along the canyon faces," he explained. "Our botanists and biologists, if they're evaluating, say, an invasive plant species, can watch the feed and determine how many of the plants are in the area without having to rappel over the rim."
Grand Canyon currently has six trained operators, each of whom had to obtain an operator's license for unmanned air system from the Federal Aviation Administration and then complete a week-long seminar specific to Grand Canyon National Park.
Jager said the park is leading the way for other land management agencies in the use of the drones, putting them to work in a variety of situation, from search and rescue to wildland firefighting, and aiding in the development of best practices and standard operating procedures. He was recently appointed to a nationwide task force of different agencies tasked with developing a model for other parks to use in the future.
The uses for drones are numerous and varied, but Jager said that he and the park's leadership are trying to remain mindful of visitors.
"This is still a national park," he said. "A lot of visitors come here for serenity and peace of mind, and we want to remain mindful of that and not have these drones buzzing around here all the time disturbing that."
See next week's edition for the second of a two-part series on unmanned air systems in Grand Canyon National Park.