Originally Published: May 16, 2017 11:52 a.m.
GRAND CANYON, Ariz. — Formed over billions of years, the Grand Canyon is home to ancient fossils and remains of extinct mammals, but it also bears evidence of human development dating back about 10,000 years.
That adds up to a lot of discoveries, from ancient pottery to ancient creatures frozen in time. For those who cannot get to Grand Canyon National Park to peruse the archives in person, anthropology students at Northern Arizona University (NAU) have partnered with the Museum of Northern Arizona to give armchair archaeologists a chance to view some interesting archive exhibits, many of which have now been removed from display.
The American Southwest Virtual Museum catalogs high-resolution images of photographs, maps, information and virtual tours of National Park Service units and museums across the Southwest. Users can view archaeological materials and models of excavation sites, learn about natural resources, comb through historic photographs and even take visitor center and trail tours.
Interactive artifact displays, photographed and created by anthropology students at NAU, allow viewers to see artifacts in 3-D. These artifacts, too fragile to handle, can be turned, magnified, rotated and studied from every angle. This allows viewers to view items like pottery vessels as if they were turning it over in their hands, as well as zoom in on textural and artistic details.
Over the centuries, many different tribes have inhabited and passed through the area, and each one produced unique pottery styles and designs. From the coiled and textured vessels of Mogollon brown ware to the brightly-colored reds and yellows of the Sikyatki (Hopi) and Tusayan styles, students, artists, scholars and internet explorers can study the intricate patterns and cultural imagery.
Other Native American artifacts, such as split-twig figurines and trinkets can also be viewed, including a replica of Hohokam shell ornament made by well-known Southwestern archaeologist Emil Haury in 1931. Split-twig figurines, which were created from split and folded willow and squawbush twigs, were common in the Grand Canyon and across the Colorado Plateau around 2,000 to 4,000 thousand years ago. Each figure is crafted from a single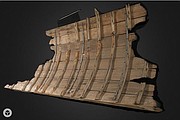 twig and then carefully folded and twisted to created large game animals such as deer, bighorn sheep and possibly mountain goats.
Alongside ancient pottery and projectile (arrow and spear tips) exhibits, the museums feature a few artifacts from the modern era.
The last remnant of the Nellie Powell, one of the three wooden boats used on John Wesley Powell's second journey down the Colorado River, Powell's
gold watch, and a cork life preserver used on the 1909 Stone Expedition are just a few of the Grand Canyon exhibits.
The Nellie Powell, which had been left at Lee's Ferry, was deemed to be in too poor of a condition to be used on the second expedition, so it was given to local ferryman John Lee, who later abandoned it in a field. Although most of the vessel was burned in a brush clearing, a remnant was found near Lee's Ferry in 1938 and placed on display in Grand Canyon National Park until 1997.
Human history is not the only history on display at the virtual museum, though. Remains of the giant ground sloth and Harrington's mountain goat, both of which are now extinct, can be viewed, as well as other animal bones and fossils of long-gone creatures from the Southwest.
For more information or to explore all of American Southwest Virtual Museum's exhibits, go to http://swvirtualmuseum.nau.edu.
More like this story