Originally Published: November 7, 2017 9:40 a.m.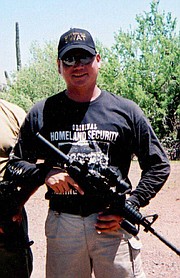 GRAND CANYON, Ariz. — After travels to nearly every continent and several tours of duty in active combat zones, John Barnes made his way to the small community of Tusayan to join the Tusayan Fire Department.
It's the perfect place for him, he says, with his love of all things outdoors.
It's also a big change from his last engagement, which took him to the loneliest place on earth for the last four years — Antarctica. Barnes was a fire lieutenant with the Antarctic Fire Department and worked at both McMurdo Station and the South Pole. He was also a member of the Joint Antarctic Search and Rescue team based out of New Zealand.
McMurdo Station is a United States Antarctic research center located on the southern tip of Ross Island. The station serves as a hub of supplies and basic services for the outlying research bases, staffed by only a few people.
Barnes said although Antarctica seems vacant and lonely, McMurdo is not that different from Tusayan – except covered with snow. The area is home to about 1,000 residents, although only 250 weather the rough Antarctic winters.
There is no vegetation, no dry, hot air in Antarctica – so what does a firefighter do?
Barnes said he spent most of his time on search and rescue missions farther out on the continent.
"Sometimes it might be going 11,000 feet up to the site of a plane crash and trying to dig out the plane and any survivors," he said. "Or we might drop down into a deep crevasse to try and recover the body of someone who has fallen."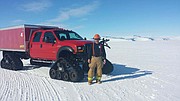 Antarctica is just one of the far-flung places Barnes has served since leaving his home on the Passamoquoddy tribal reservation on the coastal border of Maine and Canada. Before joining the armed forces, Barnes served as a fire engineer and SWAT team medic for the Tohono O'odham Nation in southern Arizona.
Barnes served the United States as a Navy hospital corpsman assigned to the Marine Corps infantry. He was attached to a Navy SEAL unit and Delta Force as a team leader and medic in Northern Afghanistan from 2010-2011. Barnes also did a combat tour in Kosovo. After officially retiring from the Marine Corps, Barnes returned to Afghanistan working for a private security firm.
After seeing more of the world than the average firefighter, Barnes returned to Arizona and the Tusayan Fire Department.
"I feel like I've seen the world, and now it's time to settle into a 20-year career," he said.
Barnes is trained in airport, wildland and structural firefighting and is a veteran emergency medical technician of 17 years. He is also skilled in incident command, site security and various forms of personnel and asset protection.
Barnes enjoys hiking and other outdoor activities and is looking forward to hiking in the area. Each summer, he returns to the Passamoquoddy reservation for the annual pow-wow, which he sometimes participates in as a dancer or drummer.