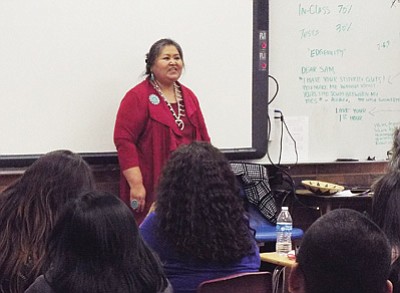 Originally Published: November 7, 2017 10:19 a.m.
FLAGSTAFF, Ariz. — The Plan B Foundation to Save Wolves will sponsor a special performance of the traditional Navajo winter story about leadership and the wisdom of the wolf (Mai Tso) told by storyteller and folklorist Sunny Dooley.
The event will take place at 7 p.m. at the Museum of Northern Arizona's Branigar Hall, 3101 N Fort Valley Rd, Flagstaff. Cost is a minimum donation of $10 per person.
Dooley, a well-known Navajo storyteller, will tell the story in English, unfolding in rich and entertaining detail how two mammals, two birds and an instigator insect changed the world by bringing integrity to leadership and a voice to all the people.
Appropriate for all-ages, this Navajo tale shares culturally grounded lessons of leadership and demonstrates that nature is a powerful teacher for humankind.
Proceeds from both events will benefit the work of the Grand Canyon Wolf Recovery Project.
More like this story