Originally Published: November 28, 2017 10:58 a.m.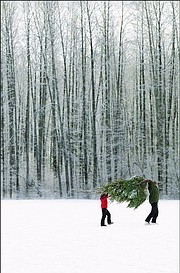 GRAND CANYON, Ariz. — Thanks to the decade-old recession of 2007-2008, live Christmas tree prices could climb as much as 25 percent this year.
According to the National Christmas Tree Association, it takes about 10 years for a tree to mature to the proper size — and because fewer people bought trees around the time the recession hit in 2008, farmers planted fewer of them, leading to a shortage.
More trees were planted in subsequent years, but those trees aren't ready yet, making it difficult for tree sellers to keep them in stock — especially the larger ones. Because of the shortage, shoppers can expect to see the price tag for an average tree jump about 25 percent.
There is a northern Arizona alternative, however, for those who like big, fragrant trees decorating their homes through December, and possibly beyond. The Kaibab National Forest is offering Christmas tree permits for each of its Ranger Districts, including Tusayan, Williams and North Kaibab.
Tree permits are $15 and can be purchased at any district office or through the mail. Each tag is good for a tree up to 10 feet tall. Individuals who purchase tags will be provided with a map showing their designated cutting area along with additional tree cutting instructions. Tags are only good for the tree species and district for which they were purchased.
Additionally, every fourth grader is eligible for a free Christmas tree permit through the Every Kid in a Park program.