Originally Published: October 10, 2017 10:13 a.m.
Photo Gallery
Grand Canyon Walk To School Day 2017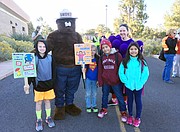 GRAND CANYON, Ariz. — Grand Canyon students and teachers participated in Walk to School Day Sept. 28 as part of a nationwide effort to give children safe routes to walk and bike to school.
Students met at the Grand Canyon Clinic and had time to chat with Smokey the Bear and National Park Service rangers before walking to school as a group.
The students learned about walking and biking as a way to promote a healthy lifestyle, and also learned the value of eating their fruits and veggies from some very large grapes and strawberries.
According to its website, Walk to School Day was established in 1997 by the National Center for Safe Routes to School (NCSRS) with a mission of making walking and biking to school a safe, appealing, preferred choice for families.
In 2016, the organization launched the initiative "Vision Zero for Youth," linking Walk to School Day with communities and elected officials making a commitment to promote safe walking and bicycling and to eliminate fatal and serious traffic crashes.
More like this story