Originally Published: October 24, 2017 9:55 a.m.
Photo Gallery
Grand Canyon Residents Live It Up Disney Style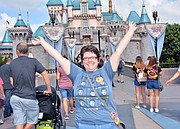 Grand Canyon community members traveled to Disneyland Oct. 2-6. The trip was sponsored by the Grand Canyon Rec Center, which offers field trips for members and residents monthly throughout the year. The Rec Center hopes to make a trip to southern California each year.
More like this story