Originally Published: October 24, 2017 10:15 a.m.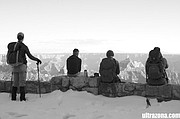 NORTH RIM, Ariz. — Attempting a rim to rim hike in even the most pleasant of northern Arizona temperatures is a daunting prospect, but attempting it in the middle of winter just after a snowstorm dumped nearly two feet of snow is insanity, right?
For Vince Franzen, an avid outdoor adventurer from Phoenix, it was just another trip into the fairly isolated beauty of the North Rim.
With snow shoes and two feet of snow.
"Just a few days before we were scheduled to head to the Grand Canyon, the area was hit with a winter storm that dumped 20-plus inches and included horrific temperatures," Franzen said. "The ranger (at the Backcountry Office) had bad news for us. Apparently the storm had made the North Kaibab Trail impassable by other groups. But they lacked snowshoes and of course we were more determined than them."
Franzen said the group made record time down to Phantom Ranch, where they had lunch, and quickly began their ascent up the North Kaibab Trail toward Cottonwood Camp, where they slept for the night. As they were leaving camp the next morning, Franzen said he learned that a group of trail runners had cut the path up the North Kaibab, meaning it was now passable.
"From one perspective this was great news, because it meant we would make it to the yurt," he said.
The group headed up the trail, through the Supai Tunnel and into less well-traveled territory. When Franzen reached the top, he was excited to finally strap on his new snowshoes for the untouched two-foot snow drifts between the hikers and the warmth of the yurt.
The yurt is a cozy prospect for hikers, even though the accommodations are fairly sparse. No beds, no snuggly blankets, just a table, some chairs and a wood-burning stove with a cache of firewood.
With a lot of trial and error, Franzen said, he managed to get a fire going in the wood-burning stove, and the group used the yurt as home base for a precarious snowshoeing adventure to Bright Angel Point and then to the vacant North Rim Lodge to watch the sunset before settling back in at the yurt.
The group left the next day to return to the South Rim via the same route they had used before, with an overnight camp at Phantom Ranch.
The North Rim yurt has been a fixture of Grand Canyon's quieter backcountry, especially for hikers like Franzen and his team looking to experience winter's snowy magic. The yurt was closed by the Park service earlier this fall and will be demolished before the end of the year because of maintenance and visitor safety concerns.
The full story of Franzen's winter rim-to-rim-to-rim adventure can be found at www.ultrazona.com.
More like this story