Originally Published: October 31, 2017 10:24 a.m.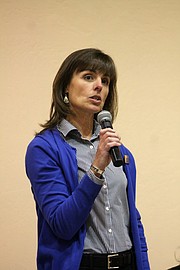 FLAGSTAFF, Ariz. — Land managers from Grand Canyon National Park, Coconino and Kaibab National Forests, Flagstaff Area National Monuments and the Bureau of Land Management gathered at the Museum of Northern Arizona Oct. 25 to update residents about ongoing projects and listen to concerns.
After informing residents about upcoming initiatives on the national forests, as well as within the national parks, the floor was opened to community members to ask questions and express concerns about the stewardship of their public lands.
Chris Lehnertz, Grand Canyon National Park Superintendent, explained the fee increase proposed by the NPS will help eat into some of the maintenance backlog at 17 of the country's busiest parks, including Grand Canyon.
The fee increase, which would raise park entry fees for a non-commercial vehicle from $30 to $70 during peak season, would begin June 1, 2018. Lehnertz said the NPS is currently conducting a public comment period about the proposed increase through Nov. 23.
While understanding the need for increased funds to make critical infrastructure repairs, some residents expressed concerns the fee increase would all but close the park to low-income families and tribal members even as the NPS gains ground on including underserved populations with free-entry days and the Every Kid in a Park program.
Danny Blackgoat, a Navajo tribal member from Black Mesa and a former teacher in the Flagstaff Unified School District, said members of the Navajo Nation could no longer afford to visit the park as part of their religious ceremonies or to gather traditional plants within its borders.
"You should be lowering fees to make the Grand Canyon accessible to all," Blackgoat said. "Not raising them."
Lehnertz said direction from the Interior Department, which has jurisdiction over NPS, was to raise fees to help cover some of the deferred maintenance projects, not lower them.
"We're employees of the government, and at the end of the day, we have to do what the executive branch tells us to do," she said.
Leon Thomas, a representative of the BLM, added residents should use their voice to dictate what happens to public lands when they go to the ballot box.
"At the end of the day, you elect these officials, and you have a voice," Thomas said. "Use that voice to let your elected officials know what you want to happen on your public lands."
A representative of Latino Outdoors, an organization which encourages Hispanics of all ages to participate in outdoor activities, said she understood the need for the fee increase, but also questioned how Grand Canyon would keep its promise to be more inclusive of Hispanics and other underserved populations.
Grand Canyon already offers free entry on selected days throughout the year and participates in the Every Kid in a Park program, which provides fourth graders with a one-year pass to all public lands.
Still, Lehnertz said, the park is still looking for solutions to be more inclusive to all populations, regardless of whether the fee increase is implemented.
A resident also questioned the need to remove several hundred bison from the North Rim of the Grand Canyon.
Heather Provencio, Kaibab National Forest Supervisor, explained bison were originally found in very small populations throughout the region, and the original 100 or so bison moved into the park from the nearby House Rock Valley Wildlife Area several decades ago.
Because hunting is not allowed within national park boundaries, the herd's numbers have increased to about six times its original numbers and is having a negative impact on lands within the park.
"You can see the impact they're having in large numbers," Provencio said. "At the boundary line, you can see that there is healthy grass and ground on the national forest side of the fence, and the ground is completely wiped out."
The NPS recently approved a cull of the herd down to about 150 to 200 individuals over the next five years utilizing special hunt permits.
The Kaibab and Coconino National Forest supervisors also addressed other resident concerns ranging from off-road vehicle use to an invasion of non-native weeds in areas where roads were being constructed to aid in forest service projects.
Residents said the exploding growth of off-road vehicles on national forest roads and trails was destroying the wilderness feel of the area, and posed a danger to both hikers and natural resources, since they were being allowed in large groups.
Both Provencio and Laura Jo West said their policies allow groups of up to 74 without a special use permit and that there is nothing forest service can do to limit recreational use as long as policies are being followed.
Provencio said the USFS can partially address the issue through law enforcement, since leaving authorized trails or destroying natural resources in illegal on national forest lands. West agreed, but said law enforcement on the national forests was limited, and Coconino National Forest wasn't likely to see an increase in law enforcement rangers any time soon.
"Our law enforcement rangers don't work for us locally, they work for the Washington, D.C. office," West said. "That office decides where law enforcement is assigned, and the reality is that we're probably not going to be assigned any additional officers."
Provencio and West said it was important for residents continue reporting violations and poor experiences, because those reports can shape policy changes in the future.