Originally Published: October 31, 2017 10:16 a.m.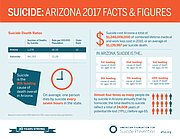 GRAND CANYON, Ariz. — "Are you thinking about killing yourself?"
It seems like a harsh question. Callous, even. But it's a question a person considering ending his or her life needs to hear, according to Perri Spreiser, a Grand Canyon interpretive ranger trained in suicide prevention and intervention.
"Asking a person if he is thinking about harming himself isn't taking the issue seriously enough," Spreiser said. "These people are not thinking of harming themselves; they are planning to kill themselves. If we want them to be brave and talk to us, we owe them that direct question."
According to the American Foundation for Suicide Prevention (AFSP), suicide is the 10th leading cause of death in the United States, and it's the 8th leading cause in Arizona. More than 44,000 people took their lives in 2014, the most recent year for which statistics were available. It was the highest recorded rate in 28 years.
For every suicide that is completed in the United States, 25 are attempted.
"That's one of us, in this room right now," Spreiser told the group of parents and community members who gathered at Grand Canyon School Oct. 24.
Spreiser said she has been fortunate to have had only one occasion where she had to talk a young man, a member of the community, out of killing himself. Listening is the most important thing you can do, she said, because if a person is talking, he is still alive.
"It broke my heart," Spreiser said. "Because this young man told me he had reached out to a hotline for help, and the woman on the other end, who is paid to care, hung up on him. He reached out to me, and as I was talking to him, I asked him to tell me his story. Talking relieves pressure. It might be the first time they say it out loud, piecing together what they're feeling. That alone could cause them to stop their actions."
Looking for signs, or invitations for intervention, is critical to getting a suicidal person help. Behavior, physical signs of distress and off-hand remarks can all be considered cries for help. It's something Spreiser does daily as part of the park's Health and Community Wellness Committee — she walks along the rim, looking for a person who may be alone, sitting or standing beyond the guard rails, looking sad or agitated. Spreiser said it takes her twice as long to walk anywhere in the park now, because she's looking at everyone, searching for any signs of distress.
Spreiser said there are some obvious signs that could signal something isn't right.
"If an adult or a child starts giving away all of their favorite things, if they lose interest in sports or activities, if they start using or misusing drugs and alcohol … these are all behaviors that should start sending up red flags," Spreiser said. "They might use phrases like 'All of my problems will be over soon,' or 'I am a burden, I can't do anything right.'"
Spreiser emphasized that getting outside help is important, if possible, but just talking to a person thinking of suicide is key to de-escalating a situation. She said getting a person talking about positive aspects of his or her life can help. If family or friends are a source of sadness or anger, leave those subjects alone and instead talk about pets or hobbies. Spreiser said sometimes, the thought of no one being available to care for a beloved pet is enough to make someone reconsider.
Lastly, Spreiser said, everyone knows about the hotlines for help or intervention, but it's important for those involved to take care of themselves, too. If the person does complete suicide, those left behind have feelings they need to express.
"The most important thing to remember is that's it's not your fault," she said. "You did everything you could."
Spreiser offers suicide prevention and intervention training for groups and community members at Grand Canyon. She can be reached at (928) 638-7834.