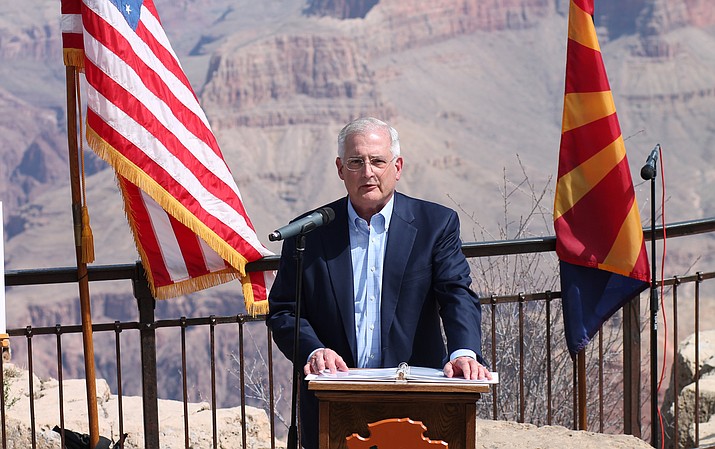 Originally Published: April 10, 2018 9:59 a.m.
GRAND CANYON, Ariz. — The Grand Canyon holds vast educational opportunities for visitors young and old, and thanks to a grant from Arizona Public Service (APS), the Grand Canyon Association can now offer the same hands-on experiences to youth from disadvantaged backgrounds.
APS announced the gift to the Grand Canyon Association, totaling $276,000, at an April 4 ceremony honoring the late Arizona congressman Morris K. Udall and Sen. John McCain.
"Today, as an extension of our partnership, I am pleased to announce that the Grand Canyon Association will receive an additional $276,000 gift in honor of Congressman Udall and Senator McCain," said Donald Brandt, president and chairman of the board of APS. "The Field School program offers a unique opportunity for youth to experience the Grand Canyon up close. The program will pay special attention to serving the teenagers in Arizona's underserved communities, especially students who may otherwise never get to experience this extraordinary place."
The grant will provide funding for the program for two years. Mike Buchheit, director of Grand Canyon Association's Field Institute, said the funds will help retool the program and allow the Grand Canyon Association and the National Park Service to demonstrate its sustainability.
Until 2016, the field school program was run exclusively by NPS.
"That program was successful, but it needed some fine-tuning," Buchheit said. "So now we are relaunching the program, this time as a collaboration between the education division of NPS and the Field Institute."
Buchheit said the plan is to use existing relationships with outside partners to bring groups of about 12 to 15 high school kids into the park for six days. The group will camp for five nights on the rim and participate in various activities at the park, including day hikes into the canyon, rim walks and visiting points of interest, like Desert View or the Tusayan Ruins. The group will also complete a service project within the park.
Buchheit said the program will continue to use NPS rangers as instructors for the course, which will have goals and outcomes like any school-based learning environment.
"The programs are curriculum-based, so they are true education trips," he said.
Buchheit said the Association will actively fundraise to keep the program going, including providing scholarships to future participants. The program has a planned kick-off date of June 2018.
More like this story