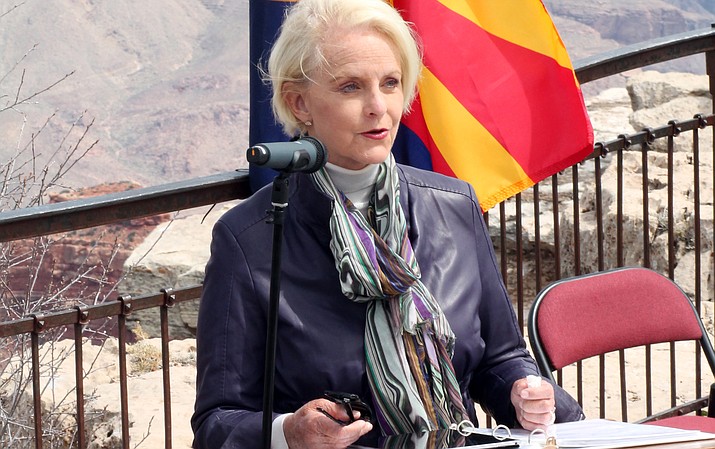 Originally Published: April 10, 2018 9:45 a.m.
Statement from Sen. John McCain
My friends, thank you for this tremendous honor, which I am humbled to share with my beloved friends, mentor and hero, Morris K. Udall.
Mo once taught a freshman congressman from the other side of the aisle a valuable lesson. He reached across the aisle, he reached across party lines, to enlist me in the effort to tackle Arizona's environmental problems.
It would have been easy for Mo to ignore me — he was a 20 year veteran of the House and a national icon, serving in the majority party at that time. I was a republican back-bencher, lucky and thankful to be recognized by other house freshmen, much less a committee chairman. But Mo didn't ignore me. He was too big for that.
Mo's faith and pursuit of cooperation and consensus enabled us to enact landmark legislation placing several million acres of pristine Arizona lands into the wilderness preservation system.
Throughout my career, I've tried not to forget Mo's example of friendship, comedy and commitment to conservation, especially when it comes to preserving Arizona, the land he loved.
Anyone who has visited this magnificent place, beheld a sunrise at Navajo Point, hiked the backcountry on the Tanner Trail or run the rapids on Lava Falls, understands what many scribes and poets have tried in vain to describe. Words pale at the indescribable, but perhaps John Wesley Powell, the Civil War hero, who in 1869 was the first intrepid soul to explore the Grand Canyon, captured it best. He said simply, 'The Grand Canyon is the most sublime spectacle on Earth.'
Thank you all for dedicating yourselves to keeping the Grand Canyon a sublime spectacle for generations to come. I am truly grateful for this incredible honor.
GRAND CANYON, Ariz. — In an era of intense political partisanship, a crowd gathered at Grand Canyon April 4 to celebrate the contributions of two Arizona congressmen: the late Rep. Morris "Mo" Udall and Sen. John McCain.
Though the two resided on separate sides of the aisle, instead of sparking what could have become a political rivalry, Udall and McCain instead sparked something else — a close friendship that lasted nearly 20 years. During those two decades, the two men worked together often for the people they served, leaving a legacy to be honored at Grand Canyon.
A liberal democrat, Morris K. Udall was a lifelong resident of Arizona, born in St. Johns in 1922. He was the son of an Arizona Supreme Court justice and brother to an Arizona congressman. When his brother, Stewart, was appointed Secretary of State in 1961, Udall took the special election to fill his vacated seat, kicking off 13 consecutive terms in the U.S. House of Representatives.
John McCain, a conservative republican who earned a reputation as somewhat of a maverick by breaking party lines, was born in the Panama Canal Zone in 1936. The family eventually relocated to Virginia, where McCain followed in the footsteps of his father and grandfather by entering the U.S. Naval Academy at Annapolis, Maryland.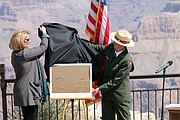 Udall's nephew Tom, who is currently serving New Mexico in the Senate, described his uncle in terms that everyone who knew him agreed upon: he was tall, kind and had an overflowing sense of humor.
"In 1982, Arizona could not have elected two more different members to the U.S. House of Representatives," Sen. Udall said. "A tall, lanky, Lincolnesque, one-eyed Mormon who tried to cheat his way into World War II, self-effacing and humorous, a liberal democrat in a conservative state who championed the environment and Native Americans. And John McCain, an Easterner, a newcomer to Phoenix … a stocky, handsome son and grandson of four-starred Navy admirals, who easily made his way into the U.S. Naval Academy, only to graduate 894 out of 899 in his class, due to extreme rebelliousness, as he liked to call it."
Udall served as chairman of the House Interior Committee — now the House Resources Committee — from 1977 to 1991, and after his first election to the House in 1982, McCain joined the committee as a freshman congressman who had only moved to Arizona two years prior. It was then, Sen. Udall and others agreed, that Mo Udall took John McCain under his wing.
"Mo Udall taught John McCain the value of consensus and bipartisanship, and in turn, John had the guts to buck his own party," Sen. Udall said.
Cindy McCain, who spoke on behalf of McCain at the event, shared her recollections of Mo Udall as a great friend and mentor to her husband. On one occasion, McCain was at home hosting a party during a snow storm.
"I opened the door and there's this enormous snow man standing in front of me, completely covered, jacket, face, everything," she recalled. "It was Mo Udall! His car had broken down on the Parkway, and he had walked almost two miles to get to our house. My husband wasn't there. I was a young, dumb congressman's wife, and I didn't know what to do — this was the chairman of a committee and if I made a mistake … He sat down and began to talk to me, and he shared stories of how much he really enjoyed my husband. He sat with me for several hours, talking about Native Americans, the Grand Canyon, Arizona, the old days in Arizona and the really old days in Arizona. It was one of the more special days I've ever had in my life, and I was able to share it with Mo Udall."
McCain said the natural beauty of the state inspired both men to dedicate much of their congressional careers to protect it, a dedication which underpinned their bond. She praised Udall's mentorship of her husband.
"When he was first elected to the House some 36 years ago, a kindly man took my husband, a young whippersnapper and kind of a tough guy under his wing," she said. "He taught him patience, he taught him how to look at the land and how to look at its people, to take time. He was someone my husband learned a great deal from."
For everything he learned from Mo Udall during his years of mentorship, McCain remained a committed friend and companion long after the elder statesman retired. Mo Udall retired from Congress in 1991 after being diagnosed with Parkinson's Disease. His daughter, Judith Udall, thanked McCain for his kindness and caring toward her father in his final years.
"His visits to my father (in the VA hospital) were not about making history, but about true friendship, compassion and basic humanity," she said. "The relationship between my father and John (McCain) was so strong, that even after the spotlight left my father, John continued to give back to dad in the privacy of a dreary hospital room."
Judith recalled how McCain would sit with her father, conversing with him even though he had lost his ability to speak and reading him the local newspapers.
"Senator, I don't know what you said or read, but you can be sure dad was listening and was comforted by your presence," she said.
With stories to tell and jokes to refrain from repeating, family members recalled with humor and compassion the two men who worked to preserve the Grand Canyon stretched out behind them. A bronze plaque, designed by Flagstaff artist and champion of the canyon, Bruce Aiken, states simply the legacy of two veteran lawmakers:
"Leaders from different parties, united in friendship, patriotism and faithful stewardship of the Grand Canyon."
More like this story