Originally Published: August 14, 2018 10:49 a.m.
Photo Gallery
Grand Canyon Youth Baseball Nights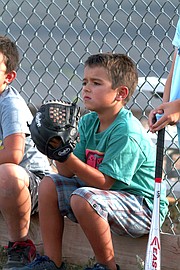 GRAND CANYON, Ariz. — The pop of baseballs hitting metal bats of the excited cheers of youngsters returned to the Grand Canyon Aug. 7 as the Rec Center teamed up with Kaibab Learning Center to provide youth baseball nights Tuesdays and Wednesdays through September.
The program gives younger kids aged 5-9 time to play on Tuesdays and older kids aged 10-13 the opportunity to take the field Wednesday nights from 6 to 7 p.m. The program is free for the kids and is open to everyone.
"Anyone can play and it's free to play," Pahl said.
Pahl sells concessions at the game nights and splits the proceeds with the Rec Center. She said Xanterra has offered to donate food to the game nights this week and she hopes other local businesses will consider sponsoring a week.
"We made $120 the very first night," Pahl said. "We're splitting the proceeds 50-50 with the Rec Center, but if we have a big turnout and a lot of kids want to come play, then we're looking to invest some of the money back into the program."
Ken Ziegler and Ed Owens, both Xanterra employees who are volunteering their time, are taking on the coaching duties this year. Many of the kids have never been in an organized sports program and have little knowledge of baseball, but Ziegler is confidently teaching them the fundamentals.
Ziegler's baseball pedigree goes back as far as his high school and college days, including a stint with a AAA league. He's teaching the kids the basics — how to throw the ball, catch the ball and hit the ball. Starting with bare hands and no bats, Ziegler coached the youngsters on ground balls and body movement. He also focused on some unspoken rules — how to carry the bat and how to behave like good sportsmen. He also emphasized that baseball isn't just for the boys.
Ziegler said the secret to teaching the sport is energy.
"You gotta be on their level, let them see that you know what you're talking about," he said. "If the kids are interested, they'll want to learn."
Owens has raised a $200 donation to purchase jerseys for the kids, and said the community is excited and ready to support the kids.
"It's gonna be a good thing," he said. "We've been pushing for this for years."
The Rec Center is also providing equipment for kids who may not have their own glove or bat to get started. Pahl and Schaan received a $500 community grant from the Grand Canyon Rotary Club to purchase the equipment.
If all goes well and a lot of kids remain interested, Pahl said they want to look into getting a Little League team started up next year.
"That would be a great thing for the Grand Canyon kids," Ziegler added. "I always encourage Little League because it's the best advantage for kids in terms of structure and opportunity."
The baseball nights will continue through September. If there is enough interest, they may continue through October as weather permits. Everyone is welcome and parents and siblings are encouraged to stay and cheer their kids.
More like this story