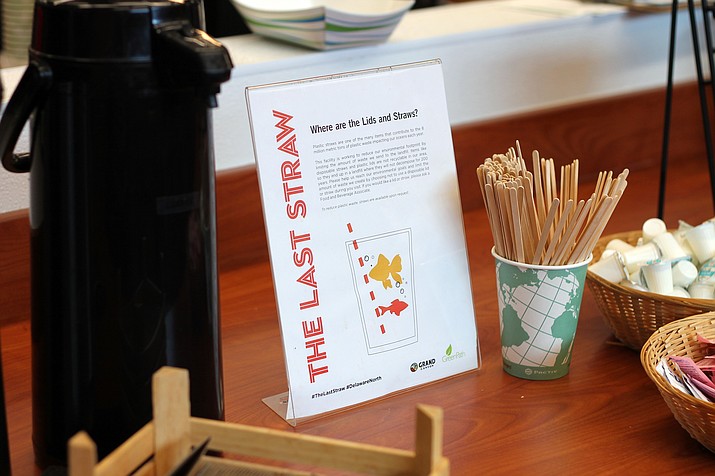 Originally Published: August 21, 2018 9:43 a.m.
GRAND CANYON, Ariz. — Once a ubiquitous part of the American dining experience, plastic straws have recently been knocked down a few notches from Slurpee King to second class citizen.
Why all the hate for plastic straws lately? The Be Straw Free campaign, a recycling and resource conservation program which the National Park Service participates in, American's use about 500 million drinking straws per day. To get an idea of what that would look like, picture 127 school buses filled to the brim with tiny straws traversing the streets every day for a grand total of 46,400 busloads per year.
But plastics can be recycled, so why aren't we simply recycling them?
Most plastic straws are made from polypropylene, which is labeled as plastic #5. Polypropylene can be fairly easily recycled, but the problem is the straw's size, not the material it's made from. According to Earth911, an online community dedicated to informing residents where they can recycle their waste, most curbside recycling programs won't accept plastic straws, and including them in your normal recycling can contaminate entire loads, which makes it more likely that these loads will be sent to the landfill and not properly recycled. Recycling operations use large-scale conveyor belts to move and separate recyclables like plastics, aluminum and glass, but straws are so small that they fall through the belts, making them very difficult to recycle with the technology we currently use.
That's why companies such as Starbucks and Disney, along with cities like Seattle, San Francisco and Miami are discontinuing their use altogether. Concessioners at Grand Canyon National Park have been limiting use of plastic straws for the past several years, choosing to operate under an offer-first policy promoted by the National Restaurant Association. This policy aims for customers to opt-in by asking for a straw, not just providing them as a default.
David Perkins, director of sustainability for Xanterra at the South Rim, said the company made the decision to discontinue use of plastic straws and opt for paper straws instead, which will be provided to customers upon request.
"We recognize straws as contributing to the global problem of single-use plastics and plastic litter and this is our reason for offering straws only on request," he said. "We continue to strive to be good stewards of the spectacular places like the Grand Canyon that we have the opportunity to enjoy every day."
Delaware North, which operates Starbucks and the General Store in Tusayan, as well as the General Store and Deli at both Grand Canyon Village and Desert View, also requires customers to request plastic straws and lids instead of offering them with their other utensils.
While environmental and recycling groups applaud the recent efforts to curb the use of single-use plastics, other groups are concerned about those who rely on straws.
Disability Rights Washington, a group that advocates for those with disabilities, opposes Seattle's recent straw ban, saying in a letter to the Seattle City Council that it places an undue burden on people with medical conditions such as cerebral palsy or muscular dystrophy, among others.
"Other types of straws simply do not offer the combination of strength, flexibility, and safety that plastic straws do," the letter states. "Requiring people with disabilities to treat a routine fast food trip as something that requires planning and supplies is an unplanned failure in equity."