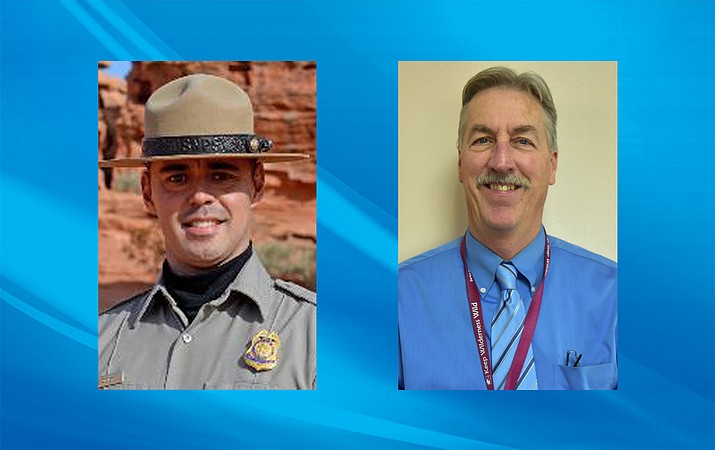 Originally Published: February 13, 2018 11:17 a.m.
ST. GEORGE, Utah — Chad Corey has been selected as superintendent of Grand Canyon-Parashant National Monument, located in northwestern Arizona. Corey was temporarily promoted from chief ranger to acting superintendent of the park in 2017, replacing Rosie Pepito, who retired last year.
"Chad's knowledge of the park, coupled with his experience of managing the unique aspects of the Grand Canyon-Parashant National Monument with our key partners, make him the right choice for this position," said Martha Lee, acting regional director for the Pacific West Region. "He has earned the respect of his team and he is ready to take on this leadership role of the monument."
Corey began his National Park Service career as a seasonal laborer at Lake Mead National Recreation Area in 2004. He has since served in leadership positions at Lake Mead National Recreation Area, Sitka National Historical Park and Zion National Park. Prior to the National Park Service, Corey served in the Army National Guard with the 72nd Military Police Company out of Henderson, Nevada. He was also deployed to Monterey, California following 9/11 and served one tour in Iraq in 2003.
"The range of cultural and natural resources within the national monument are unparalleled and I feel privileged to be selected for this assignment," Corey said. "During my time here I have enjoyed working with our local, tribal and regional partners and I look forward to continuing to expand these relationships."
Corey lives in Cedar City, Utah with his wife Carleigh, daughter Callista, and son Cohen. He will officially begin his new assignment in February 2018.
Just over one million acres, the national monument was established by presidential proclamation in 2000. The monument, located just north of the Grand Canyon, is jointly managed with the Bureau of Land Management (BLM) through a Service First agreement. Views of once-violent eruptions and flowing basalt, as well as evidence of the destructive force of earthquakes can be seen in the layers of exposed geologic history on the monument. Prehistoric trails, villages, and petroglyphs also bring clues to the life once lived by the ancient people who inhabited this land.
Additionally, BLM has named Michael Herder as the new district manager for the Arizona Strip District, which comprises 2.8 million acres north of the Grand Canyon in northwestern Arizona. 
Herder comes to Arizona from Nevada, where he served as the associate district manager and later, district manager, for the BLM's Ely District. Herder served in a temporary assignment as the BLM Nevada associate state director from September through December 2017. He started work at the Arizona Strip Jan. 8.
Herder's return to the Arizona Strip brings his journey full circle as he began his BLM career 30 years ago as a biological technician at the Arizona Strip District Office, where he worked for 20 years. During that time, Herder was promoted to wildlife team leader, where he was responsible for planning and implementation of various program activities related to wildlife, fisheries, riparian, and threatened and endangered species.
Herder later worked in the Washington Office, where he prepared national policy and facilitated budget allocations for the wildlife and fisheries programs nationwide. In 2006, Herder was named BLM Arizona Employee of the Year. He holds a bachelor of science degree in Wildlife Management and an master's degree in Marine Biology from Humboldt State University in California. 
Ray Suazo, BLM Arizona state director, appointed Herder to the position overseeing the Arizona Strip District. 
"Mike is an experienced land manager who has demonstrated the ability to deal with a variety of challenging issues. He has fostered positive working relationships with local, state, federal, and tribal partners as well as local communities and other stakeholders. We are lucky to have him in Arizona and welcome him to our leadership team," Suazo said.
Herder replaces Tim Burke, who retired Dec. 30, 2017. The district has about 65 employees.
 "I'm happy to be back in this region," Herder said, "and I'm looking forward to the opportunities to collaborate with our great partners on the Arizona Strip."
The Arizona Strip District includes the Grand Canyon-Parashant National Monument, Arizona Field Office, and Vermilion Cliffs National Monument. The Grand Canyon isolates the Arizona Strip region from the rest of Arizona, making it among the most remote and rugged public lands management units in the lower 48 states. There are approximately 4,000 miles of unpaved roads leading to spectacular scenic vistas, remoteness and solitude among rough scenic canyons and ponderosa pine forests, as well as working landscapes that support the local economy through grazing, mining and other uses.