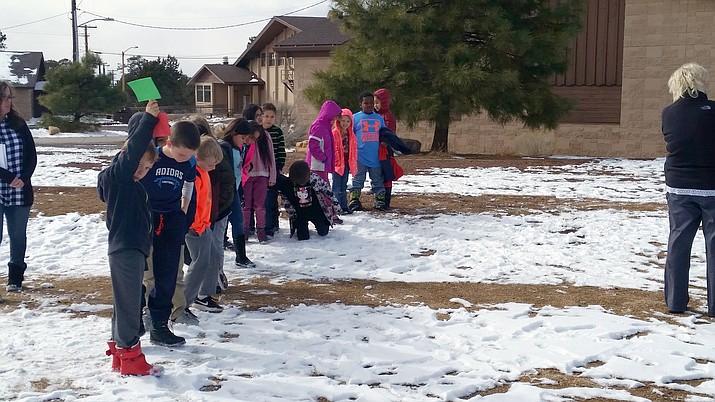 Originally Published: February 27, 2018 9:41 a.m.
GRAND CANYON, Ariz. — 2018 is barely two months old, and already there have been eight shootings at schools across the country.
Although some of these shootings did not involve fatalities, the trauma felt by students and teachers alike is raw, and is leading to very real changes in how schools conduct the business of keeping students safe.
Grand Canyon School is no exception.
The only school located within a national park, the school is small by any standards. It's tucked away in a residential neighborhood, with no walls or fences surrounding its treed, open campus. There are fewer than 300 students enrolled in grades K-12.
And yet, said Principal Tom Rowland, it's not a matter of if gun violence will erupt on campus, it's a matter of when.
Grand Canyon School works with National Park Service law enforcement rangers to keep school grounds safe. The Ranger Operations building is located less than one mile away, and Rowland said rangers are able to respond to the school in less than five minutes.
"A lot of the rangers in this park have a child in this school," he said. "They all have a deep, vested interest."
As a result of other deadly school massacres in recent years, most notably the Sandy Hook Elementary School shooting in 2013, schools have developed lockdown procedures and hold drills to ensure students and staff are prepared. Previously, Grand Canyon School was holding one lockdown drill per year. Now, Roland says, they're looking at doing at least three or four per year.
The drill
The drills are conducted by NPS law enforcement rangers, along with the Coconino County Sheriff's Department and the Arizona Department of Public Safety, which Trooper Shaun Shields said can typically have personnel on location in under 20 minutes.
During a lockdown, the external doors to the school are locked within 30 seconds. Any students in hallways are brought into the nearest classroom and those doors are also locked. Students and teachers are to turn all the lights off, silence cell phones and hide away from doors or windows.
Rowland said all teachers and students will remain this way until law enforcement sweeps the building, clearing each room one by one.
Chief Ranger Matt Vandzura said rangers receive varying degrees of reactionary training both on and off school grounds.
"We have fairly extensive training as far as developing the tactics and techniques, what we will do if something happens," Vandzura said. "We also have two collateral duty officers stationed at the school for both the day and night shifts."
While these officers aren't full-time school resource officers, Vandzura said their job is to keep an eye on the school.
Vandzura said more importantly, rangers focus every day on community engagement, providing a presence at sporting events, fundraisers and other school-related functions.
"By being a presence, we can help with the root causes of the behavior that could potentially lead to a school shooting," he said. "We try to identify and help people who need it."
Because the community is so remote, Vandzura said there isn't an official, robust mental health system in place, but that rangers and many others are working individually to create a network to get people the help they need.
"The school counselor, our rangers, the EMTs who provide emergency and firefighting service, they're all trained to look out for people who may need help," he said.
Times are changing
Even the drills themselves have changed in response to recent shootings. Rowland said teachers have been instructed not to leave the building, even if the fire alarm goes off.
"The Florida shooter pulled the fire alarm, ensuring that there would be students in the hallways," Rowland said. "We had a meeting just yesterday to discuss with our teachers that they aren't to leave their rooms during an unannounced fire alarm."
Making their voices heard
In the wake of the shooting at Marjory Stoneman Douglas High School in Parkland Florida Feb. 14, students in Florida and around the country have banded together, staging walkouts and protests at all levels of government. Many schools, including ones in Phoenix and Mesa, have supported the students' rights to have their voices heard, and Rowland said Grand Canyon High School is no different.
While students will be on Spring Break for the March 24 nationwide Walk for Our Lives walkout, Rowland said they will be given an opportunity March 28 to leave class for a period of time to support their fellow students.
Other safety measures
Although there hasn't been a fire-related death in a school since the 1950s, students at Grand Canyon School participate in regular fire drills. Wildfires are a very real threat to the park and its residents, making it necessary — and required by law — to practice an escape route monthly.
The school is an open campus, and the school administration has also developed a plan concerning child abductions and unauthorized visitors to the campus.
Vice Principal Lori Rommel said all younger students are accompanied by either a staff member or an older student, and administrators keep a regular lookout for anyone who may not belong on campus. The school's campus is a frequent corridor for park employees and family members traveling from residential areas to the Grand Canyon Railway or El Tovar and Bright Angel Lodge.
"If we see someone on campus without a visitor tag, we approach them and ask them where they're headed and let them know that they need to move along," Rommel said. "We've had people occasionally wander through while exploring the park, but it's never created a problem for us."