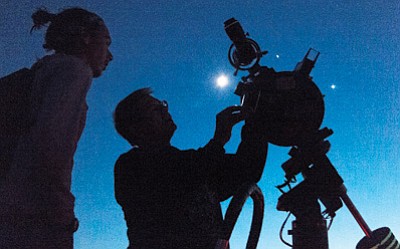 Originally Published: January 9, 2018 10:59 a.m.
Grand Canyon Star Party dates through 2026
2018: June 09-16
2019: June 22-19
2020: June 13-20
2021: June 05-12
2022: June 18-25
2023: June 10-17
2024: June 01-08
2025: June 21-28
2026: June 06-13
GRAND CANYON, Ariz. – With a night sky that seems to stretch across the entire western hemisphere, Grand Canyon is the perfect spot for star gazing and night observations.
Every year, Grand Canyon National Park hosts annual star parties. From June 9–16, visitors join locals, NPS employees, the Tucson Amateur Astronomy Association and the Saguaro Astronomy Club of Phoenix in weeklong viewing and sky exploration party on the North and South Rims of GCNP.
Amateur astronomers from across the country volunteer their expertise and offer free nightly astronomy programs and telescope viewing.
In the past, sky party guests have witnessed, through telescopes, an assortment of planets, double stars, star clusters, nebulae and distant galaxies by night, and perhaps the Sun or Venus by day. At the 2018 Star Party, Jupiter and Saturn will be evening highlights, according to NPS. Venus might make an appearance in the early evening and Mars will rise just after 11 p.m.
Grand Canyon became a Provisional IDA International Dark Sky Park in June 2016. According to the park's website, Grand Canyon is moving towards full Dark Sky Park status by replacing outdated light fixtures with energy-conserving, star-friendly alternatives.
More information about the 2018 Star Party at Grand Canyon National Park is available at https://www.nps.gov/grca/planyourvisit/grand-canyon-star-party.htm.