Originally Published: January 9, 2018 10:41 a.m.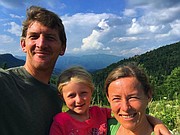 FLAGSTAFF, Ariz. — On Jan. 1 the Grand Canyon Trust welcomed Ethan Aumack as its new executive director.
Aumack's responsibilities include overseeing a wide spectrum of conservation work, from lawsuits challenging the Trump administration's actions to slash Bears Ears and Grand Staircase national monuments. He will also oversee the Trust's work at the Grand Canyon and the Colorado Plateau with efforts to raise awareness against uranium mining and milling, to sustainable grazing, and economic development work in tribal communities.
Aumack, 43, was born and raised in Flagstaff. He assumes the executive director post after nearly 20 years with the Grand Canyon Trust.
He first joined the organization as a volunteer in 1998, and quickly rose up the ranks. In recent years, he has been instrumental in 4FRI, the nation's largest forest restoration project, which seeks to return 2.4 million acres on four national forests in Arizona to healthy conditions and prevent catastrophic wildfires.
For the last six years, he has served as the Trust's conservation director, overseeing day-to-day operations and strategy for some of the most challenging and exciting environmental work in the nation.
"Ethan's tenure as executive director begins at a time when advocates for protecting clean air, water, public land, and wildlife find themselves besieged by actions to roll back important environmental protections, making the Trust's work more essential than ever. Building on past successes and a broad network of relationships, under Ethan's leadership the Grand Canyon Trust will continue to serve as an engine for positive change on the plateau," the Trust said in a press release.
"These are consequential times for all of us who care about conservation across the plateau and around the globe," Aumack said. "There is so much at stake. Leading the Grand Canyon Trust as it works to protect the canyon and the plateau is an incredible honor and privilege."
Aumack is the fifth executive director since the Grand Canyon Trust's founding in 1985. His predecessor, Bill Hedden, of Castle Valley, Utah, served from 2003 through 2017.
"We make this transition at a difficult time in the external political world, but I have the comfort of knowing that the team at the Trust is blessed with Ethan's extraordinary leadership," Hedden said.
"Ethan brings experience, creativity, and vision to the conservation work of the Trust," said Grand Canyon Trust board chair and former Grand Canyon National Park superintendent Steve Martin, adding, "In these tumultuous times, we are fortunate to have someone of his caliber in the lead."
More like this story