Originally Published: July 3, 2018 9:37 a.m.
Photo Gallery
Echoes Of The Canyon 2018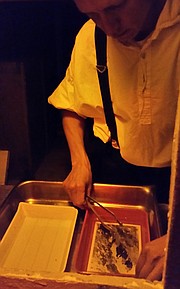 In a studio clinging precariously to the side of the Grand Canyon, Ellsworth Kolb aims his camera out one of the picture windows to capture the reddish-blue canyon stretched out far below. His brother, Emery, toils in the darkroom at the other end of the house while Emery's wife, Blanche, pours over her husband's books and makes the studio a home.
The lives of Grand Canyon's original daredevil photographers were just a few of the stories told over Grand Canyon National Park's Echoes of the Canyon living history weekend. Other characters, like pioneer John Hance, came to life to treat visitors to a glimpse of days past when the South Rim was wild and often unforgiving.
Volunteer ranger Nettie Klingler, dressed as Blanche Kolb, led tours through the Kolbs' historic home and studio, detailing the brothers' journey from a small photography business in a tent on the rim to some of the Canyon's most well-known characters.
Klingler said in the early days, it was a rough business.
"When the brothers first started, the only place to develop photos was down at Indian Garden," she said. "So Ellsworth would take the photo of the mule train before they went down, and then Emery would take it all the way down to Indian Garden to develop it so it would be ready as they were coming back up. It was four and a half miles one way, and we know he must've been practically running the whole way."
Along with costumed rangers, wranglers gathered at Bright Angel trailhead to introduce guests to the park's most reliable mode of transportation. In the century since Grand Canyon was opened to industry, commerce and tourism, mules are still the best way to reach the inner canyon.
Obviously, a vehicle is out of the question, but why not horses?
Besides being more physically adapted to rough terrain, with slightly wider hooves and eyes that can see exactly where they're planting them, park ranger John Wishart said it's because the mules are stubborn.
"Mules are way into self-preservation," he said. "A well-trained horse might walk right off a cliff if you guided them toward it, but a mule won't do that."
Unlike the mules that take visitors down to the canyon floor, these mules pack supplies like food and medical supplies down to Phantom Ranch, or they pack tools or materials for trail work. Wishart said the mules could pack as much as 250 pounds, but wranglers generally will only pack about 100 to 150 pounds per animal.
"It's really rough terrain and these guys need to work for a long time," Wishart said.
Native American history at the Grand Canyon pre-dates the European experience by thousands of years, and Zuni artisans Elroy Natachu Jr. and Kandis Quam were on hand to teach visitors about the pueblo people populating the area before Southwest canyon country became a destination. Natachu is a painter and also weaves traditional Zuni textiles, while Quam paints traditional Zuni animals and symbols against colorful backdrops.
Natachu said traditional weaving was lost to many of the pueblo peoples during the Spanish settlement of the area because the Spanish would confiscate the finely-woven spiritual garments as taxes. Because of this, he said, the practice was stopped or went underground, and it wasn't until the Spanish left that the Zuni, among others, saw a resurgence in traditional textile weaving thanks to the neighboring Hopi Tribe.
Now, Natachu works with a lot of community groups in Zuni Pueblo and around the region to teach younger generation, and even some of the older ones, about the symbols and lore of textile weaving, which is only performed by men among the Zuni.
"A lot of times people will do something just because that's what they've been taught, but they don't always understand the meaning behind it," he said. "We want to sit down and teach the people about our traditions and our religion so they understand why we do these things."