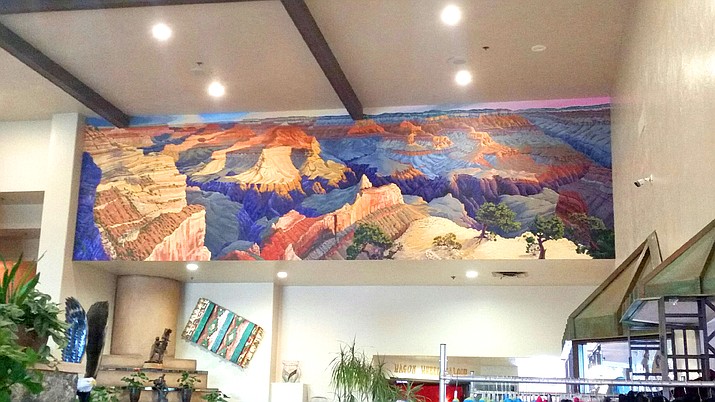 Originally Published: June 12, 2018 10:46 a.m.
TUSAYAN, Ariz. — Prescott artist Phillip Timper recently completed a panoramic view of the Grand Canyon on a wall overlooking the lobby of the Canyon Plaza Resort Hotel.
Timper said the mural, which is about 8 feet tall by 27 feet long, was modeled after a panorama view he digitally stitched together from six photographs of the Grand Canyon. Using the photo as a guide, Timper drew the outline of the canyon walls, grasses and trees and then filled in with color over the course of about six weeks.
Ann Wren Serna, who manages the hotel, said she decided to do the mural on a whim, and chose Timper because he had done other artwork in the hotel.
"We had this huge blank wall, so we figured, why not?" she said. "No other hotel in the area has something like this.
In addition to the mural, Canyon Plaza has renovated both their atrium dining area and their lobby and signature restaurant.